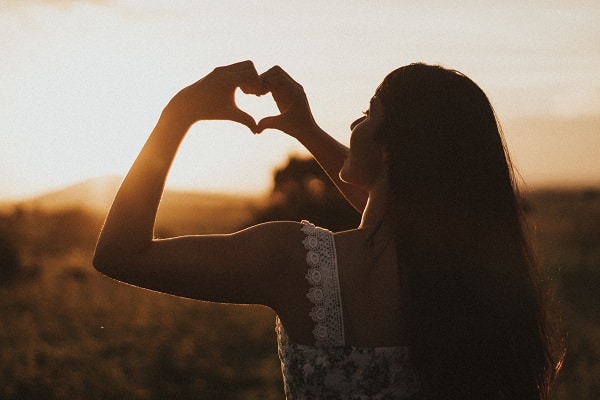 One common mistake that's often based in kindness and in love is to focus too much on what you can give to your world and the people in it.
And so you give and give. At work. In your personal life.
It's helpful and kind for sure. But also unbalanced if you forget about yourself and what you need and want in your life.
Because that part is absolutely essential to be able to help and to share your own gifts with the world in the longer time-perspective.
So in this post I'd like to share 140 of the most powerful focus on yourself quotes. To help you help yourself and to not get lost in what others want, in unhappiness and perhaps even in eventual burnout.
I truly hope you'll find something here to help you live your best and most self-loving life.
And if you want even more motivational quotes then check out this post with quotes on self-care and this one filled with self-love and self-esteem quotes.
Inspirational Focus on Yourself Quotes
"Life isn't about finding yourself. Life is about creating yourself."
George Bernard Shaw
"Your life is controlled by what you focus on."
Tony Robbins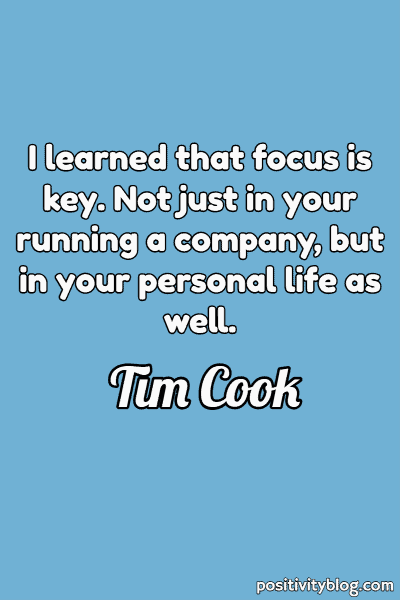 "I learned that focus is key. Not just in your running a company, but in your personal life as well."
Tim Cook
"I don't focus on what I'm up against. I focus on my goals and I try to ignore the rest."*
Venus Williams
"Until you value yourself, you won't value your time. Until you value your time, you will not do anything with it."
M. Scott Peck
"Never make someone a priority when all you are to them is an option."
Maya Angelou
"The best way to predict your future is to create it."
Abraham Lincoln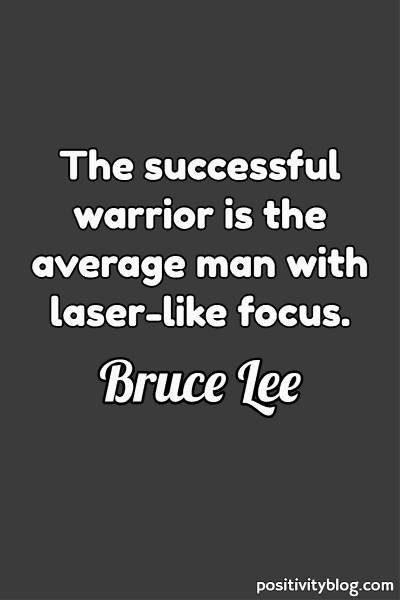 "The successful warrior is the average man with laser-like focus."
Bruce Lee
"I believe the only thing that we really have control over is our attitude. If we focus on the positive things in our lives and learn how to cope with all the surprises, we will be happier people."
Brandon Jenner
"The more you are like yourself, the less you are like anyone else, which makes you unique."
Walt Disney
"If my life is going to mean anything, I have to live it myself."
Rick Riordan
"Every kid, every minority kid can be so successful if they focus on their education."
Magic Johnson
"Just look at yourself in the mirror and focus on what you need to do to get better."
Choo Freeman
"Be who you are and say what you feel because those who mind don't matter and those who matter don't mind."
Bernard Brauch
"Always remember, your focus determines your reality."
George Lucas
"Where you hang your feelings is where you hang your focus."
Shannon L. Alder
"Don't focus on the competition, focus on ways to make yourself better."
Hopal Green
"I am the only person in the world I should like to know thoroughly."
Oscar Wilde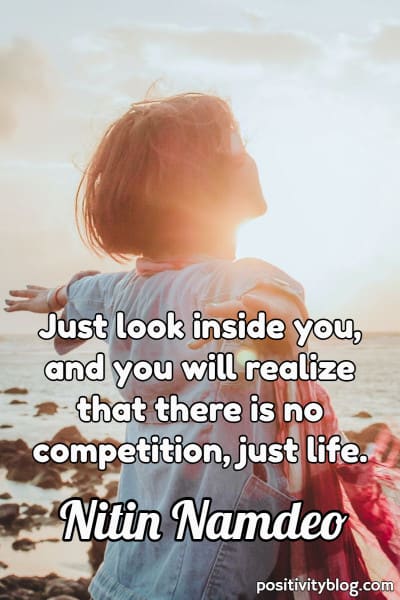 "Just look inside you, and you will realize that there is no competition, just life."
Nitin Namdeo
"Let people do what they need to do to make them happy. Mind your own business, and do what you need to do to make you happy."
Leon Brown
"Trust yourself. Create the kind of self that you will be happy to live with all your life. Make the most of yourself by fanning the tiny, inner sparks of possibility into flames of achievement."
Golda Meir
"In the journey of finding love I focus on having a great relationship with myself first."
Angel Moreira
"I think self-knowledge is a key to happiness. We can build happy lives only on the foundation of our own natures, our own values and our own interests."
Gretchen Rubin
"I think everybody's weird. We should all celebrate our individuality and not be embarrassed or ashamed of it."
Johnny Depp
"For me, I've learned that the best thing is to focus on the team you play for and yourself and what you need to do."
Sidney Crosby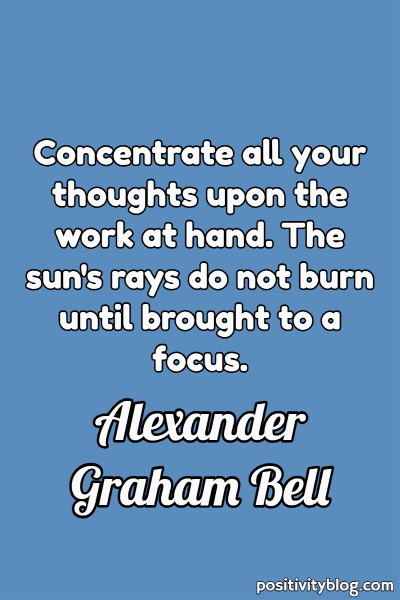 "Concentrate all your thoughts upon the work at hand. The sun's rays do not burn until brought to a focus."
Alexander Graham Bell
You may also like this post about self improvement and positive energy.
Motivational Focus on Yourself Quotes
"I'd rather have the whole world against me than my own soul."
Dr. John
"Realize deeply that the present moment is all you ever have. Make the Now the primary focus of your life."
Eckhart Tolle
"You have to be self-interested in order to be selfless. You have to put yourself first if you want to be of use to other people."
Rachel Bartholomew
"Friendship with one's self is all important, because without it one can not be friends with anyone else in the world."
Eleanor Roosevelt
"Your life is the fruit of your own doing. You have no one to blame but yourself."
Joseph Campbell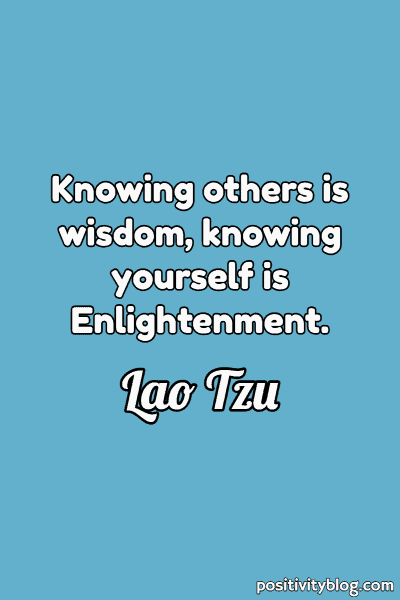 "Knowing others is wisdom, knowing yourself is Enlightenment."
Lao Tzu
"I learned long ago to focus on things you can control and don't even pay attention to things you don't."
Bryan Cranston
"Tis' better to live your own life imperfectly than to imitate someone else's perfectly."
Elizabeth Gilbert
"If you have a past with which you feel dissatisfied, then forget it, now. Imagine a new story for your life and believe in it. Focus only on the moments when you achieved what you desired, and that strength will help you to get what you want."
Paulo Coelho
"For the moment I'm just focusing on my own stuff."
Cheryl James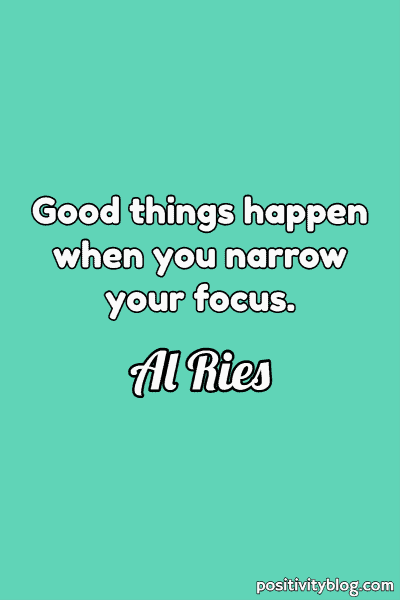 "Good things happen when you narrow your focus."
Al Ries
"The difference between the impossible and the possible lies in a man's determination."
Tommy Lasorda
"What lies behind us and what lies before us are tiny matters compared to what lies within us."
Ralph Waldo Emerson
"You have to validate yourself first, and then you will receive the much-deserved healing validation from the rest of the world."
A.D. Posey
"The best day of your life is the one on which you decide your life is your own. No apologies or excuses. No one to lean on, rely on, or blame. The gift is yours – it is an amazing journey – and you alone are responsible for the quality of it. This is the day your life really begins."
Bob Moawad
"You've sacrificed too much for others. Now do the same for yourself."
Mitta Xinindlu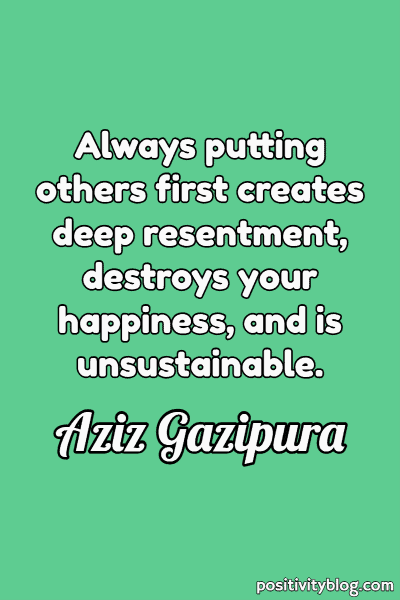 "Always putting others first creates deep resentment, destroys your happiness, and is unsustainable."
Aziz Gazipura
"Real change will come when you focus on yourself."
Ritu Ghatourey
"It is during our darkest moments that we must focus to see the light."
Aristotle
"Lack of direction, not lack of time, is the problem. We all have twenty-four hour days."
Zig Ziglar
"One of the greatest regrets in life is being what others would want you to be, rather than being yourself."
Shannon L. Alder
"I'm all about good vibes, big goals, amazing experiences, more happiness, less pain, healthy relationships and staying focused on what matters."
Unknown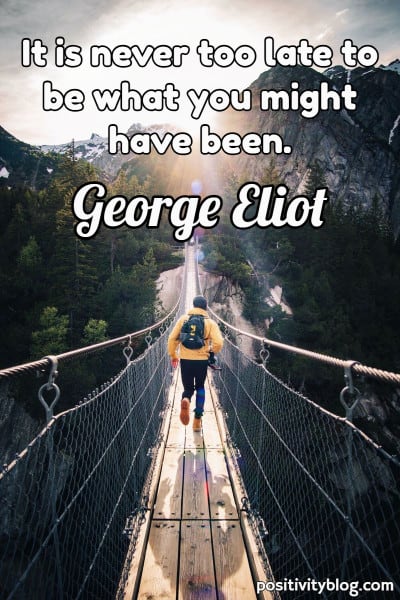 "It is never too late to be what you might have been."
George Eliot
Focus on Yourself Quotes for Self Love and Self Care
"You, yourself, as much as anybody in the entire universe, deserve your love and affection."
Buddha
"Find yourself first, like yourself first, love yourself first, and friendship and love will naturally find you."
Mandy Hale
"Talk to yourself like you would someone you love."
Brene Brown
"Never underestimate the fact that loving others is a choice but loving yourself is a responsibility."
Germany Kent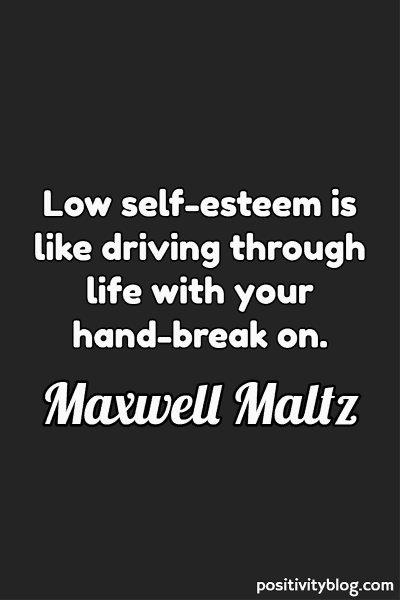 "Low self-esteem is like driving through life with your hand-break on."
Maxwell Maltz
"You have been criticizing yourself for years, and it hasn't worked. Try approving of yourself and see what happens."
Louise L. Hay
"No human being is ever going to love you more than you love yourself."
Avis J. Williams
"No one can make you feel inferior without your own consent."
Eleanor Roosevelt
"To gain self-respect, you need to put yourself first."
Lorii Myers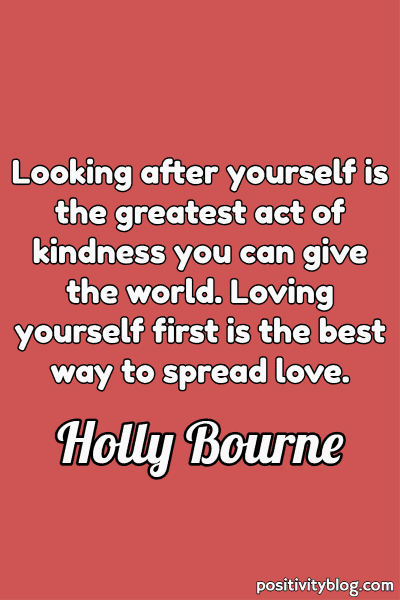 "Looking after yourself is the greatest act of kindness you can give the world. Loving yourself first is the best way to spread love."
Holly Bourne
"When I was around 18, I looked in the mirror and said, 'You're either going to love yourself or hate yourself.' And I decided to love myself. That changed a lot of things."'
Queen Latifah
"Focus on your opinion of yourself and not the opinion others have of you."
Winnie Harlow
"We must fall in love with yourselves. I don't like myself. I'm crazy about myself."
Mae West
"Self-care is never a selfish act—it is simply good stewardship of the only gift I have, the gift I was put on earth to offer to others."
Parker Palmer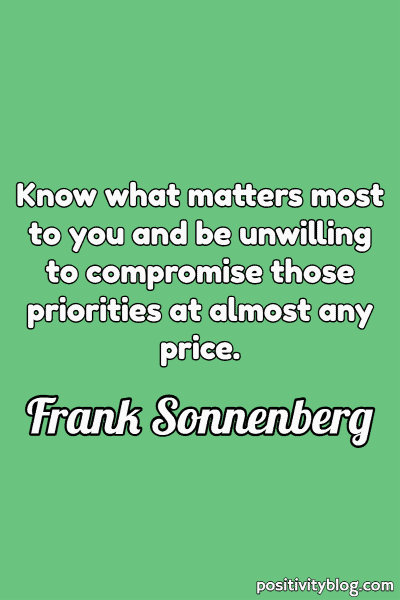 "Know what matters most to you and be unwilling to compromise those priorities at almost any price."
Frank Sonnenberg
"Be healthy and take care of yourself, but be happy with the beautiful things that make you, you."
Beyonce
"When you recover or discover something that nourishes your soul and brings joy, care enough about yourself to make room for it in your life."
Jean Shinoda Bolen
"If you are really humble you will put yourself first when you need to take care of you."
Bryant McGill
"Love yourself enough to set boundaries. Your time and energy are precious. You get to choose how you use it. You teach people how to treat you by deciding what you will and won't accept."
Anna Taylor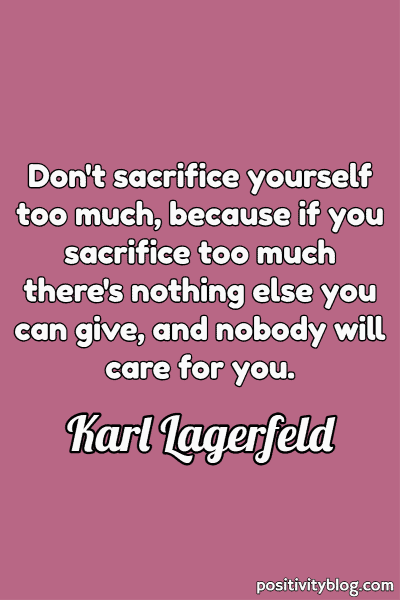 "Don't sacrifice yourself too much, because if you sacrifice too much there's nothing else you can give, and nobody will care for you."
Karl Lagerfeld
"Happiness is not something ready made. It comes from your own actions."
Dalai Lama
"If you want to be happy, do not dwell in the past, do not worry about the future, focus on living fully in the present."
Roy T. Bennett
"If you feel "burnout" setting in, if you feel demoralized and exhausted, it is best, for the sake of everyone, to withdraw and restore yourself."
Dalai Lama
"Almost everything will work again if you unplug it for a few minutes, including you."
Anne Lamott
"Genuine relationships depend first on healthy relationships with ourselves."
Sonia Choquette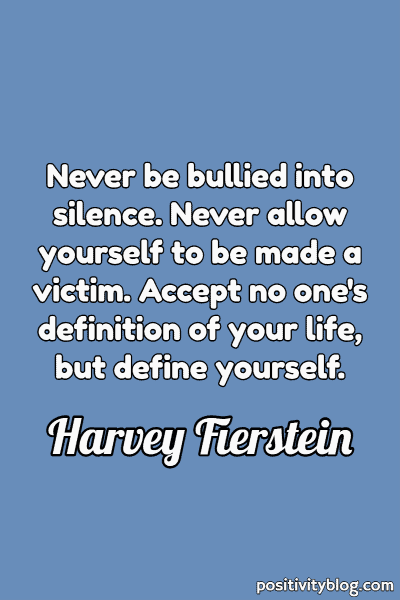 "Never be bullied into silence. Never allow yourself to be made a victim. Accept no one's definition of your life, but define yourself."
Harvey Fierstein
"Love yourself first and everything else falls into line. You really have to love yourself to get anything done in this world."
Lucille Ball
"I found in my research that the biggest reason people aren't more self-compassionate is that they are afraid they'll become self-indulgent. They believe self-criticism is what keeps them in line. Most people have gotten it wrong because our culture says being hard on yourself is the way to be."
Kristen Neff
"The things that make me different are the things that make me me."
A.A. Milne
"Stop allowing yourself to focus on depressing life circumstances – including focusing on being depressed about your weight. All this negative focus will only lead you to feeling bummed and wanting to pig out. Instead, consciously focus on happy life circumstances you enjoy doing, and create more of them!"
Karen Salmansohn
"Whenever you feel compelled to put others first at the expense of yourself, you are denying your own reality, your own identity."
David Stafford
"To be a good parent, you need to take care of yourself so that you can have the physical and emotional energy to take care of your family."
Michelle Obama
"As you grow older, you will discover that you have two hands, one for helping yourself, the other for helping others."
Maya Angelou
"There are days I drop words of comfort on myself like falling leaves and remember that it is enough to be taken care of by myself."
Brian Andreas
"Prove to the world you are worth something by treating yourself with the utmost respect and hope that other people will follow your example. And even if they don't, at least one person in the world is treating you well: you."
Carrie Hope Fletcher
"If you do not respect your own wishes, no one else will. You will simply attract people who disrespect you as much as you do."
Vironika Tugaleva
"Don't rely on someone else for your happiness and self-worth. Only you can be responsible for that. If you can't love and respect yourself – no one else will be able to make that happen. Accept who you are – completely; the good and the bad – and make changes as YOU see fit – not because you think someone else wants you to be different."
Stacey Charter
"You're always with yourself, so you might as well enjoy the company."
Diane Von Furstenberg
"A healthy self-love means we have no compulsion to justify to ourselves or others why we take vacations, why we sleep late, why we buy new shoes, why we spoil ourselves from time to time. We feel comfortable doing things which add quality and beauty to life."
Andrew Matthews
"A man cannot be comfortable without his own approval."
Mark Twain
"The most important relationship you'll ever have is the one you have with yourself."
Unknown
"To fall in love with yourself is the first secret to happiness."
Robert Morley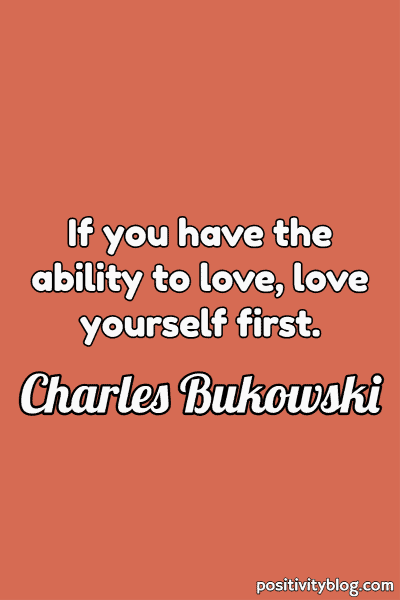 "If you have the ability to love, love yourself first."
Charles Bukowski
"Do what you feel in your heart to be right – for you'll be criticized anyway."
Eleanor Roosevelt
"Loving yourself isn't vanity. It's sanity."
Andre Gide
You can find more timeless wisdom on loving yourself in this post.
Positive Focus on Yourself Quotes for Personal Growth
"Respect your efforts, respect yourself. Self-respect leads to self-discipline. When you have both firmly under your belt, that's real power."
Clint Eastwood
"When you undervalue what you do, the world will undervalue who you are."
Oprah Winfrey
"Don't let the noise of other's opinions drown out your inner voice."
Steve Jobs
"A clear vision, backed by definite plans, gives you a tremendous feeling of confidence and personal power."
Brian Tracy
"Always choose yourself first. Women are very socialized to choose other people. If you put yourself first, it's this incredible path you can forge for yourself."
Rebecca Traister
"We must not allow other people's limited perceptions to define us."
Virginia Satir
"The direction of your focus is the direction your life will move. Let yourself move toward what is good, valuable, strong and true."
Ralph Marston
"Success in life is not for those who run fast, but for those who keep running and always on the move."
Bangambiki Habyarimana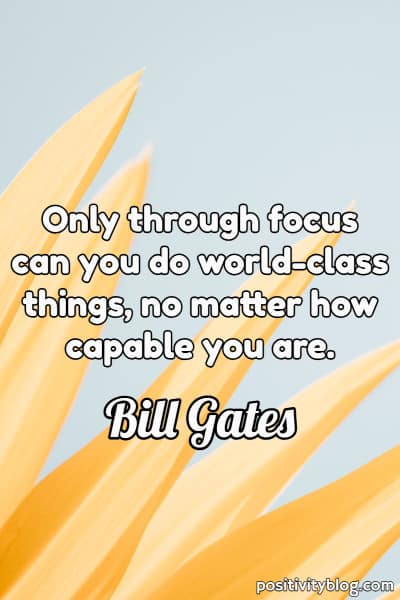 "Only through focus can you do world-class things, no matter how capable you are."
Bill Gates
"The secret of change is to focus all of your energy, not on fighting the old, but on building the new."
Socrates
"Focus on doing the right things instead of a bunch of things."
Mike Krieger
"Don't wait for good things to happen to you. If you go out and make some good things, then it happens to you."
Barack Obama
"If there's no inner peace, people can't give it to you. The husband can't give it to you. Your children can't give it to you. You have to give it to you."
Linda Evans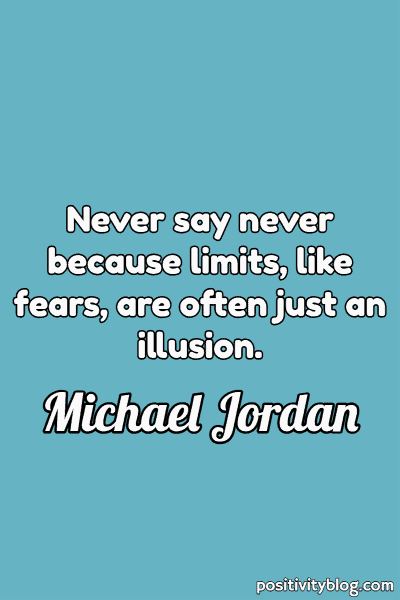 "Never say never because limits, like fears, are often just an illusion."
Michael Jordan
"Owning our story and loving ourselves through that process is the bravest thing that we'll ever do."
Brene Brown
"The only one you should compare yourself to is you. Your mission is to become better today than you were yesterday. You do that by focusing on what you can do today to improve and grow."
John Maxwell
"Be patient with yourself. Self-growth is tender; it's holy ground. There's no greater investment."
Stephen Covey
"Self-belief and hard work will always earn you success."
Virat Kohli
"Why should we worry about what others think of us, do we have more confidence in their opinions than we do our own?"
Brigham Young
"You were born to be real, not to be perfect."
Ralph Marston
If you want more uplifting thoughts check out these I deserve better quotes.
Wise Focus on Yourself Quotes
"There are more important things to focus on in life than how you look."
Arden Cho
"The earlier you learn that you should focus on what you have, and not obsess about what you don't have, the happier you will be."
Amy Poehler
"If you cannot find peace within yourself, you will never find it anywhere else."
Marvin Gaye
"How we perceive a situation and how we react to it is the basis of our stress. If you focus on the negative in any situation, you can expect high stress levels. However, if you try and see the good in the situation, your stress levels will greatly diminish."
Catherine Pulsifer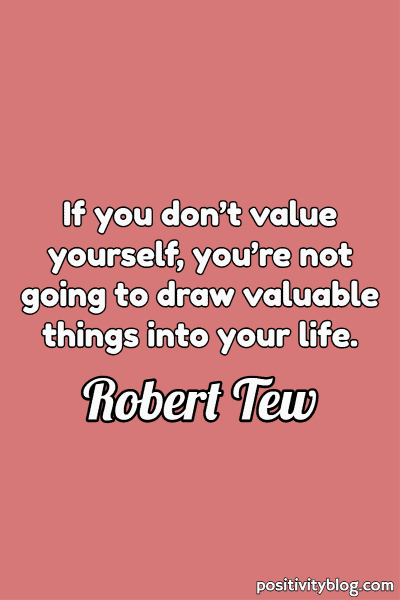 "If you don't value yourself, you're not going to draw valuable things into your life."
Robert Tew
"Life consists in what a man is thinking of all day."
Ralph Waldo Emerson
"At the very moment when people underestimate you is when you can make a breakthrough."
Germany Kent
"Choose to put yourself first and make you a priority. It's not selfish, it's necessary."
Keysha Jade
"You are enough just as you are."
Meghan Markle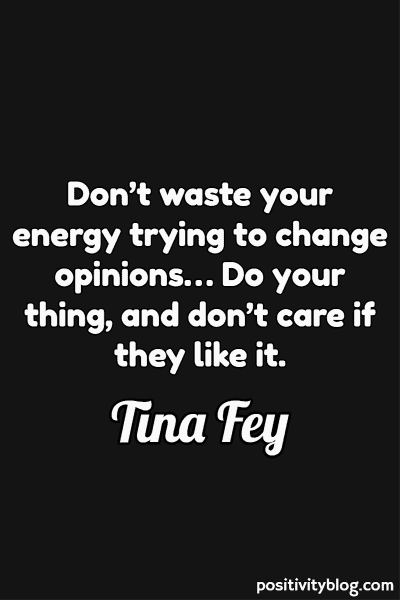 "Don't waste your energy trying to change opinions… Do your thing, and don't care if they like it."
Tina Fey
"In a funny way I think social media is making people less rather more experimental. People are too worried about looking good all the time. When I grew up you could get it all horribly wrong and it didn't matter, there was no record."
Patrick Grant
"Once you embrace your value, talents and strengths, it neutralizes when others think less of you."
Rob Liano
"Live life to the fullest, and focus on the positive."
Matt Cameron
"Stop feeling sorry for yourself and you will be happy."
Stephen Fry
"Do what you can, with what you have, where you are."
Theodore Roosevelt
"Focus on remedies, not faults."
Jack Nicklaus
"Successful people maintain a positive focus in life no matter what is going on around them. They stay focused on their past successes rather than their past failures, and on the next action steps they need to take to get them closer to the fulfillment of their goals rather than all the other distractions that life presents to them."
Jack Canfield
"Big goals get big results. No goals gets no results or somebody else's results."
Mark Victor Hansen
"To uncover your true potential you must first find your own limits and then you have to have the courage to blow past them."
Picabo Street
"It's not about having enough time, it's about making enough time."
Rachael Bermingham
"Focus comes a lot more easily when you desperately want the results of your own work – nobody else is going to do it for you."
Palmer Luckey
"Focus alone is not enough; putting in the time to commit is also crucial to achieve success."
Warren Buffett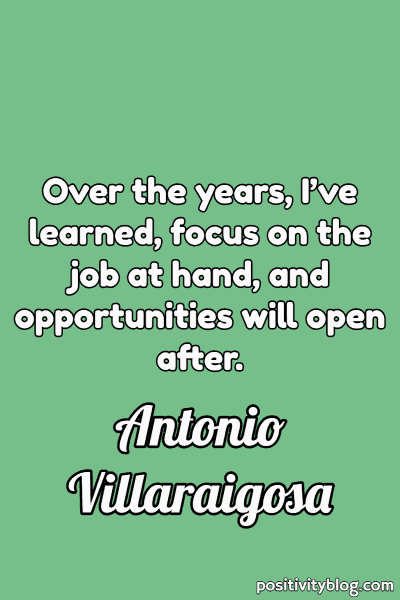 "Over the years, I've learned, focus on the job at hand, and opportunities will open after."
Antonio Villaraigosa
"Don't wait for a crisis to realize what matters most. Put yourself first right now. Because right now is all we have."
Brittany Burgunder
"Whatever you are, be a good one."
Abraham Lincoln
If you found these focus on yourself quotes helpful be sure to share them with a loved one on social media or via email.
Want even more motivation and positive thoughts? Check out this post with inspiring quotes about knowing your true worth and also this one filled with you are enough quotes.