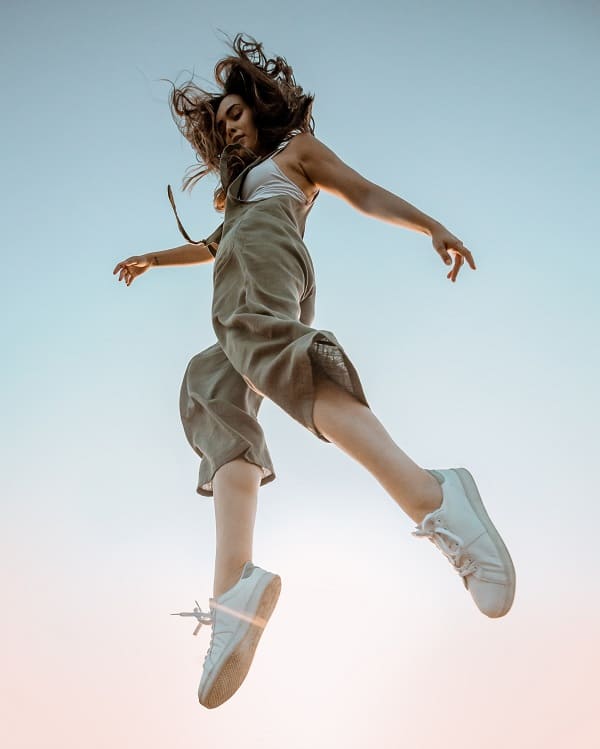 If you're looking for a boost of energy and to up your motivation right now then you're in the right place.
In this post I've collected 137 of the most powerful positive energy quotes.
Timeless wisdom and tips that will help you to shift your perspective and to find optimism and a path forward if you're going through a tough time (or if you're just having an unmotivated or crappy day so far).
And if you want even more positive quotes from positive people check out this post on knowing your true worth and value in life and this one about keeping your head up during difficult times.
Positive Energy Quotes to Boost Your Motivation Right Now
"Just one small positive thought in the morning can change your whole day."
Dalai Lama
"Positive thinking is more than just a tagline. It changes the way we behave. And I firmly believe that when I am positive, it not only makes me better, but it also makes those around me better."
Harvey Mackay
"Try to be a rainbow in someone else's cloud."
Maya Angelou
"Positive thinking will let you do everything better than negative thinking will."
Zig Ziglar
"When you arise in the morning, think of what a precious privilege it is to be alive – to breathe, to think, to enjoy, to love."
Marcus Aurelius
"Virtually nothing is impossible in this world if you just put your mind to it and maintain a positive attitude."
Lou Holtz
"Focus on an ocean of positives, not a puddle of negatives."
Kevin Ansbro
"It's a funny thing about life, once you begin to take note of the things you are grateful for, you begin to lose sight of the things that you lack."
Germany Kent
"Once you replace negative thoughts with positive ones, you'll start having positive results."
Willie Nelson
"You are braver than you believe, stronger than you seem and smarter than you think."
A. A. Milne
"People like to be around those who give off positive energy."
Erin Heatherton
"A man sees in the world what he carries in his heart."
Johann Wolfgang von Goethe
"When you show deep empathy toward others, their defensive energy goes down, and positive energy replaces it. That's when you can get more creative in solving problems."
Stephen Covey
"Sometimes your joy is the source of your smile, but sometimes, your smile can be the source of your joy."
Thich Nhat Hanh
"The past has no power over the present moment."
Eckhart Tolle
"In times of great stress or adversity, it's always best to keep busy, to plow your anger and your energy into something positive."
Lee Iacocca
"Every morning has a unique story. There are always some seeds of possibilities waiting to sprout."
Amit Ray
"Positivity brings about a peace of mind which in turn relaxes your whole being."
Suman Arora
"Once your mindset changes, everything on the outside will change along with it."
Steve Maraboli
Uplifting Positive Energy Quotes for the Difficult Days
"Few things in the world are more powerful than a positive push. A smile. A world of optimism and hope. A 'you can do it' when things are tough."
Richard M. DeVos
"It is important for me to focus on positive actions taken to heal instead of beating myself up over what I did wrong each day. It shifts my perspective, thus making my body and mind more hospitable places for healing and positive energy."
Sharon E. Rainey
"Positive thoughts, words, and actions create positive feelings. Positive feelings generate positive energy."
Nozer Kanga
"If you don't like me, if you like me; both are equally cool. I send love and positive energy to all those people in their lives. I hope they find where they're meant to be."
Willow Smith
"Be a positive energy trampoline — absorb what you need and rebound more back."
Dave Carolan
"When you are at peace, you attract positive energy."
Unknown
"A negative attitude drains, a positive attitude energizes."
Lindsey Rietzsch
"Don't waste your energy trying to change opinions, do your thing, and don't care if they like it."
Tina Fey
"Gratitude can transform any situation. It alters your vibration moving you from negative energy to positive."
Oprah Winfrey
"We can bring positive energy into our daily lives by smiling more, talking to strangers in line, replacing handshakes with hugs, and calling our friends just to tell them we love them."
Brandon Jenner
"No matter what the situation, remind yourself "I have a choice."
Deepak Chopra
"To attract positive energy in your life, be positive in thoughts and action."
Anil Sinha
"Believe that life is worth living and your belief will help create the fact."
William James
"Winners make a habit of manufacturing their own positive expectations in advance of the event."
Brian Tracy
"Healing takes time, and so does not healing. Choose how you spend your time wisely."
Lalah Delia
"Stay positive, all other choices are pointless punishments to your psyche."
Joe Peterson
"Positive anything is better than negative nothing."
Elbert Hubbard
"The thing that lies at the foundation of positive change, the way I see it, is service to a fellow human being."
Lee Iacocca
"External sources of positive energy and motivation will exhaust, unless we have our captive generation of positive energy. The only sustainable source of positive energy is our thoughts."
Sukant Ratnakar
"The struggle you're in today is developing the strength you need tomorrow."
Robert Tew
"If you are depressed you are living in the past. If you are anxious you're living in the future. If you are at peace you are living in the present."
Lao Tzu
"It's not important what other people believe about you, it's only important what you believe about yourself."
Rev Ike
"Pessimism leads to weakness, optimism to power."
William James.
"Don't hold to anger, hurt or pain. They steal your energy and keep you from love."
Leo Buscaglia
"The past is already gone, the future is not yet here. There's only one moment for you to live."
Buddha
"In order to carry a positive action we must develop a positive vision."
Dalai Lama
"When things go wrong, don't go with them."
Elvis Presley
"If you are positive, you'll see opportunities instead of obstacles."
Widad Akrawi
"Energy and persistence conquer all things."
Benjamin Franklin
Inspiring Positive Energy Quotes to Enlighten You
"I'm self-motivated. I'm motivated for myself to be the best I can be – for me to do that, I have to have my own motivation, my own positive energy."
Deshaun Watson
"Life is often quite tough, challenging us to choose between seemingly esoteric, intangible ideals and getting goodies or good vibes right now. You have character when you most often choose ideals."
Laura Schlessinger
"Energy flows where attention goes."
James Redfield
"No matter what you're going through, there's a light at the end of the tunnel and it may seem hard to get to it but you can do it and just keep working towards it and you'll find the positive side of things."
Demi Lovato
"Energy is the power that drives every human being. It is not lost by exertion but maintained by it, for it is a faculty of the psyche."
Germaine Greer
"You alone are enough. You have nothing to prove to anybody."
Maya Angelou
"Positive energy is unleashed when leaders give themselves permission to connect and express "themselves from the core of who they are. When leaders practice authenticity, creativity, engagement, confidence, and a sense of inner resourcefulness emerge."
Henna Inam
"We have to water the right seeds. If we do that, we can shift our habit energy–that negative loop that contributes to our suffering into mindfulness."
Karen Rinaldi
"If you have positive energy you will always attract positive outcomes."
Steve Backley
"Say and do something positive that will help the situation; it doesn't take any brains to complain."
Robert A. Cook
"Keep your face to the sunshine and you cannot see a shadow."
Helen Keller
"The reason I'm being positive is to make everyone around me to get the positive energy."
Sivaprakash Sidhu
"There's a direct correlation between positive energy and positive results."
Joe Rogan
"You have power over your mind – not outside events. Realize this, and you will find strength."
Marcus Aurelius
"Your inner thoughts aren't truly hidden. Their essence reflects in your energy. Energy speaks what you don't."
Drishti Bablani
"Work hard, stay positive, and get up early. It's the best part of the day."
George Allen
"My dear friend, clear your mind of can't."
Samuel Johnson
"Goals help you channel your energy into action."
Les Brown
"Stop being afraid of what can go wrong in your life and start putting your positive energy towards all that can go right!"
Timothy Pina
"Determination is a treasure of positive energy and secret of success."
Kishore Bansal
"Positivity always wins…Always."
Gary Vaynerchuk
"Pessimism leads to weakness, optimism to power."
William James
"When we function from a place of positive energy, the world around us becomes more positive."
Gabrielle Bernstein
"You're off to great places, today is your day. Your mountain is waiting, so get on your way."
Dr. Seuss
"You are the only one who can make it happen for you. Others can support and encourage you, but you have to find the energy within in order to step into the center of your own life and take charge."
Lynda Field
"Passion is energy. Feel the power that comes from focusing on what excites you."
Oprah Winfrey
"You yourself, as much as anybody in the entire universe, deserve your love and affection."
Buddha
"Instead of hating, I have chosen to forgive and spend all of my positive energy on changing the world."
Camryn Manheim
"I believe in throwing a lot of positive energy into the universe and hope for the best."
Vaani Kapoor
"Positive energy knows no boundaries. If everyone were to spread positive energy on the Internet, the world would be a much better place."
Lu Wei
Positive Energy Quotes for a New Perspective
"Always turn a negative situation into a positive situation."
Michael Jordan
"When you are inspired in your work, everything seems to fall into place."
Wayne Dyer
"No one can escape stress, but you can learn to cope with it. Practice positive thinking… seize control in small ways."
Adele Scheele
"Positivity can be taught and positive energy can be created, shared, and attracted, but the first step is to actively want to."
Lucy Stanmore
"It's time to start living the life you've imagined."
Henry James
"Problems are not stop signs, they are guidelines."
Robert Schuller
"Energy is contagious, positive, and negative alike. I will forever be mindful of what and who I am allowing into my space."
Alex Elle
"When you are enthusiastic about what you do, you feel this positive energy. It's very simple."
Paulo Coelho
"What's more toxic than what they have done, think, or have said about you is how you let your mind receive it. In a world, as ours filled with so much noise and hate, what suffers the most is our minds. Know when to keep your mind shut!"
Chinonye J. Chidolue
"With the new day comes new strength and new thoughts."
Eleanor Roosevelt
"I believe that positive energy and optimism help us to take up any challenge in life and to succeed in even the most difficult tasks. I also believe that positive energy is contagious: we can transmit it to others."
Mohammed bin Rashid Al Maktoum
"I surround myself with good people who make me feel great and give me positive energy."
Ali Krieger
"If you want to attract positive things into your life, then begin now by spreading positive energy about."
Lynda Field
"Don't be afraid of your worst times. If you learn from them, you'll look back on them as the best times."
Robert T. Kiyosaki
"Any day above ground is a good day. Before you complain about anything, be thankful for your life and the things that are still going well."
Germany Kent
"The less you respond to negative people, the more positive your life will become."
Paulo Coelho
"Relax and look to nature. Nature never rushes, yet everything gets done in time."
Donald L. Hicks
"The positive energy you bring here makes the world a better place, you know it."
Vin Diesel
"The more you lose yourself in something bigger than yourself, the more energy you will have."
Norman Vincent Peale
"I always like to look on the optimistic side of life, but I am realistic enough to know that life is a complex matter."
Walt Disney
"Stay connected to good energy and attract more positive energy into your life."
Buddha
"Be yourself to free yourself."
G. Brian Benson
Positive Energy Quotes to Ground and Energize You
"Optimism is a happiness magnet. If you stay positive, good things and good people will be drawn to you."
Mary Lou Retton
"Without feeling negative energy, we would not know what positive energy is. Acknowledge, understand and give love."
Kishan S Chauhan
"What lies behind us and what lies before us are tiny matters compared to what lies within us."
Ralph Waldo Emerson
"Make it a rule of life never to regret and never to look back."
Katherine Mansfield
"Sing like the bird's sing, not worrying about who hears or what they think."
Rumi
"If we think happy thoughts, we will be happy. If we think miserable thoughts, we will be miserable."
Dale Carnegie
"We are all in the gutter, but some of us are looking at the stars."
Oscar Wilde
"The most common way people give up their power is by thinking they don't have any."
Alice Walker
"For myself I am an optimist—it does not seem to be much use being anything else."
Winston Churchill
"A daily dosage of positive energy so corrosive that it wears out every negative doubt as the gap between the dream and reality closes."
Curtis Tyrone Jones
"The bad news is time flies. The good news is you're the pilot."
Michael Altshuler
"Every time you don't follow your inner guidance, you feel a loss of energy, loss of power, a sense of spiritual deadness."
Shakti Gawain
"You always pass failure on the way to success."
Mickey Rooney
"Change the way you look at things and the things you look at change."
Wayne Dyer
"A positive attitude gives you power over your circumstances instead of your circumstances having power over you."
Joyce Meyer
"The energy you'll receive is the energy you send out. So be sure to choose to spread positive energy to your friends, family and others in your world."
Unknown
Positive Energy Quotes for a Healthy Mindset
"Positive energy makes everything better. Your relationships, your energy at work or in school and your general outlook on your life."
Unknown
"Finding positive energy when things are difficult isn't always easy. But one thing that often helps is to find just one small thing that you are grateful for in your everyday life. And then build on that."
Unknown
"It is important to not just react to the energy someone else sends out. Instead consciously choose, as best you can, to think positive thoughts and to spread positive energy even if they are sending out negativity."
Unknown
"Positive energy is the small difference that pays off handsomely in the long run. No matter in what area of life you apply it."
Unknown
"Your words can be constructive or destructive. Love is a positive energy that grows when it is filled up with sweet words, and that keeps love fresh, and alive. If there are destructive words, love will go dry and finally die."
Ehsan Sehgal
"When it is hard to find positive energy, take two minutes to close your eyes and let the memories of your biggest successes wash over you."
Unknown
"To be a more attractive person, one good place to start is simply by spreading good vibes and positive energy."
Unknown
"You don't have to be positive and upbeat all the time. Just a small time-period of positive energy in your daily life – maybe just 20-30 minutes – can make a big difference in the long run."
Unknown
"Block the negative energy of others from entering your mind as often as you can. Let your mind be a place of positive energy and positive thoughts."
Unknown
"You can get a huge positive energy inflow into your life simply by consuming more positive media such as positive podcasts, videos, books and social media channels."
Unknown
"A negative outlook will drag you and the people around you down. But if you on the other hand exude positive energy then that make all the difference. Because that positive energy spreads happiness out into your world (that strengthens and then bounces back into you)."
Unknown
"Reinforce your positive thoughts and Redirect to the substantial energy of your frustration."
Napz Cherub Pellazo
"Be a positive energy trampoline — absorb what you need and rebound more back."
Dave Carolan
"Getting positive results in life doesn't have to take as much energy as you may fear. Just a few small steps in the right direction early in the day and every day will over time produce greater results than you might imagine."
Unknown
"Don't think you can attain total awareness and whole enlightenment without proper discipline and practice. This is egomania. Appropriate rituals channel your emotions and life energy toward the light. Without the discipline to practice them, you will tumble constantly backward into darkness."
Lao Tzu
"Acceptance looks like a passive state, but in reality it brings something entirely new into this world. That peace, a subtle energy vibration, is consciousness."
Eckhart Tolle
"It takes as much energy to wish as it does to plan."
Eleanor Roosevelt
"Trust yourself. You know more than you think you do."
Benjamin Spock
"Give your dreams all you've got, and you'll be amazed at the energy that comes out of you."
William James
How to Make Good Use of These Positive Energy Quotes
I hope this post has upped your motivation, energy and positive mindset.
But how can you add more of that upbeat energy to your daily life?
Two ways that have helped me are:
Add 1-3 of these positive quotes to piece of paper that you put on your bedside table, in your workspace or on your fridge.
Add one of them as a reminder that pops up every day on your phone and gives you a shot of energy (I use the free Google Keep app for such purposes).
And if you liked this post then be sure to share these positive energy quotes with friends and family via email or on social media.
Want more positive energy? Check out this post with inspirational quotes about how to handle toxic people to help you stay optimistic, live a positive life and not get dragged down into negative energy.