Self-care is one of those things that is essential but we often don't take enough time for (or feel we don't have the time for).
But taking care of yourself, your body, health and mental well-being is so important to not just feel better but also to perform better in the long run and to be able to help others better.
And to keep going and not give up until you reach your goals and dreams.
So I've put together a collection of the 71 best self care quotes I've found.
I hope they will help and inspire you to more consistently take some time for yourself and for what you deep down need.
Inspiring Self Care Quotes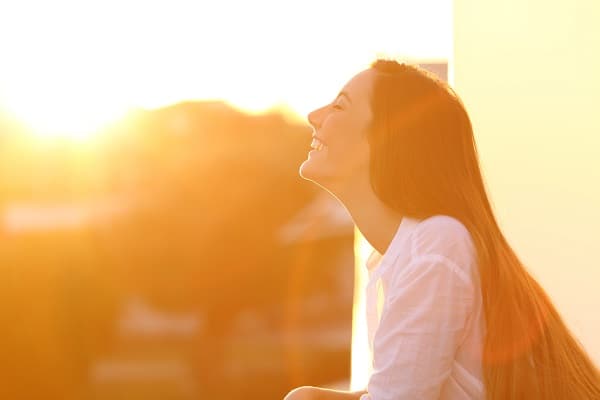 "Self-care is never a selfish act—it is simply good stewardship of the only gift I have, the gift I was put on earth to offer to others."
Parker Palmer
"I found in my research that the biggest reason people aren't more self-compassionate is that they are afraid they'll become self-indulgent. They believe self-criticism is what keeps them in line. Most people have gotten it wrong because our culture says being hard on yourself is the way to be."
Kristen Neff
"Breathe. Let go. And remind yourself that this very moment is the only one you know you have for sure."
Oprah
"A healthy self-love means we have no compulsion to justify to ourselves or others why we take vacations, why we sleep late, why we buy new shoes, why we spoil ourselves from time to time. We feel comfortable doing things which add quality and beauty to life."
Andrew Matthews
"Beauty is how you feel inside, and it reflects in your eyes. It is not something physical."
Sophia Loren
"Accept yourself, love yourself, and keep moving forward. If you want to fly, you have to give up what weighs you down."
Roy T. Bennett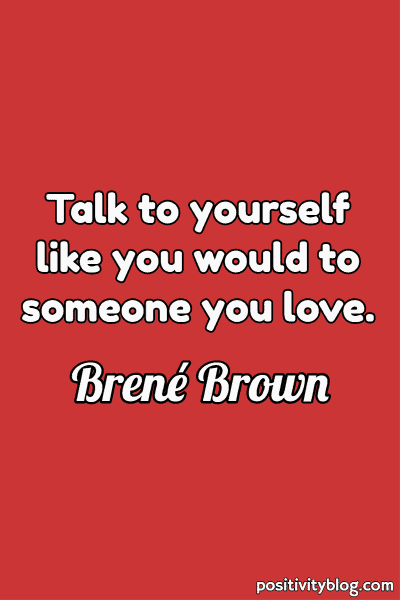 "Talk to yourself like you would to someone you love."
Brené Brown
"Self-discipline is self-caring."
M. Scott Peck
"If people concentrated on the really important things in life, there'd be a shortage of fishing poles."
Doug Larson
"Be patient with yourself. Self-growth is tender; it's holy ground. There's no greater investment."
Stephen Covey
"There are days I drop words of comfort on myself like falling leaves and remember that it is enough to be taken care of by myself."
Brian Andreas
"How much good inside a day? Depends how good you live 'em."
Shel Silverstein
"When I loved myself enough, I began leaving whatever wasn't healthy. This meant people, jobs, my own beliefs and habits – anything that kept me small. My judgement called it disloyal. Now I see it as self-loving."
Kim McMillen
"The challenge is not to be perfect — it is to be whole."
Jane Fonda
"You yourself, as much as anybody in the entire universe, deserve your love and affection."
Buddha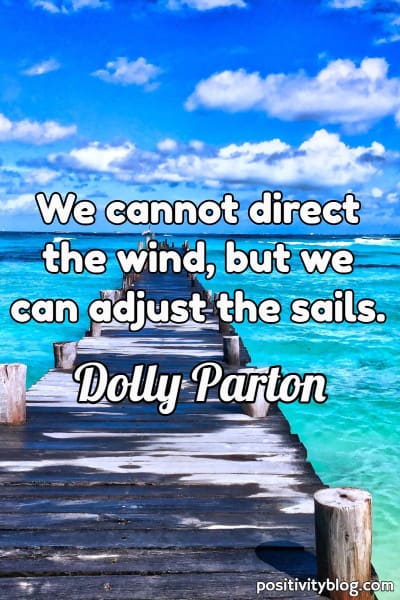 "We cannot direct the wind, but we can adjust the sails." Dolly Parton
"One of the greatest regrets in life is being what others would want you to be, rather than being yourself."
Shannon L. Alder
"One of the symptoms of an approaching nervous breakdown is the belief that one's work is terribly important."
Bertrand Russell
"Self-compassion is simply giving the same kindness to ourselves that we would give to others."
Christopher Germer
"Invent your world. Surround yourself with people, color, sounds, and work that nourish you."
Susan Ariel Rainbow Kennedy
"Allow yourself to enjoy each happy moment in your life."
Steve Maraboli
"The best day of your life is the one on which you decide your life is your own. No apologies or excuses. No one to lean on, rely on, or blame. The gift is yours – it is an amazing journey – and you alone are responsible for the quality of it. This is the day your life really begins."
Bob Moawad
Take Time for Yourself Quotes
"It is so important to take time for yourself and find clarity. The most important relationship is the one you have with yourself."
Diane Von Furstenberg
"When you recover or discover something that nourishes your soul and brings joy, care enough about yourself to make room for it in your life."
Jean Shinoda Bolen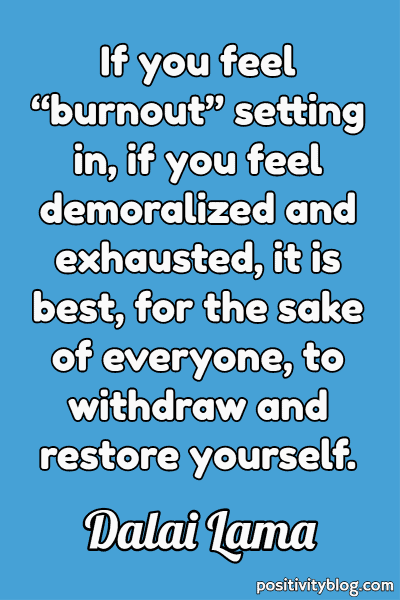 "If you feel "burnout" setting in, if you feel demoralized and exhausted, it is best, for the sake of everyone, to withdraw and restore yourself."
Dalai Lama
"Rest is not idleness, and to lie sometimes on the grass under the trees on a summer's day, listening to the murmur of water, or watching the clouds float across the sky, is by no means a waste of time."
John Lubbock
"Love yourself enough to set boundaries. Your time and energy are precious. You get to choose how you use it. You teach people how to treat you by deciding what you will and won't accept."
Anna Taylor
"If you do not respect your own wishes, no one else will. You will simply attract people who disrespect you as much as you do."
Vironika Tugaleva
"Self-care is not a waste of time; self-care makes your use of time more sustainable."
Jackie Viramontez
"To experience peace does not mean that your life is always blissful. It means that you are capable of tapping into a blissful state of mind amidst the normal chaos of a hectic life."
Jill Bolte Taylor
Self Care Quotes About Your Body, Stress and Relaxing
"Adopt the pace of nature: her secret is patience."
Ralph Waldo Emerson
"Almost everything will work again if you unplug it for a few minutes, including you."
Anne Lamott
"The time to relax is when you don't have time for it."
Sydney J. Harris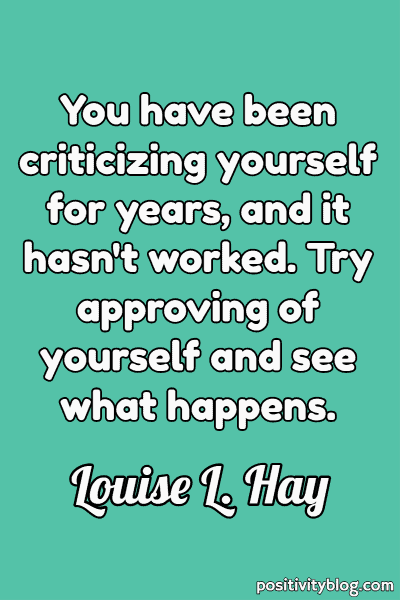 "You have been criticizing yourself for years, and it hasn't worked. Try approving of yourself and see what happens."
Louise L. Hay
"Keep good company, read good books, love good things and cultivate soul and body as faithfully as you can."
Louisa May Alcott
"If you ask what is the single most important key to longevity, I would have to say it is avoiding worry, stress and tension. And if you didn't ask me, I'd still have to say it."
George Burns
"'Our bodies are our gardens, to the which our wills are gardeners."
William Shakespeare
"I had to grow to love my body. I did not have a good self-image at first. Finally it occurred to me, I'm either going to love me or hate me. And I chose to love myself. Then everything kind of sprung from there. Things that I thought weren't attractive became sexy. Confidence makes you sexy."
Queen Latifah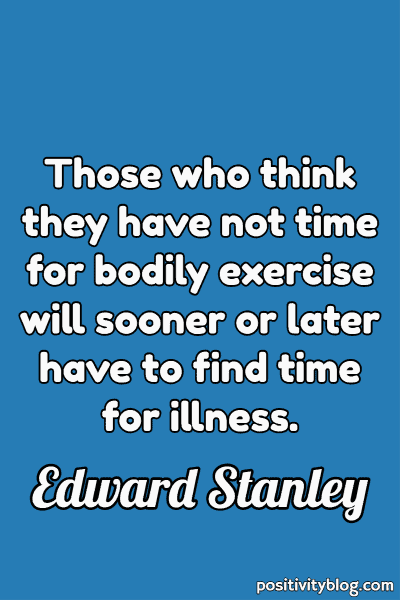 "Those who think they have not time for bodily exercise will sooner or later have to find time for illness."
Edward Stanley
"There are thousands of causes for stress, and one antidote to stress is self-expression. That's what happens to me every day. My thoughts get off my chest, down my sleeves and onto my pad."
Garson Kanin
"Self-care is so much more than a beauty regimen or an external thing you do. It has to start within your heart to know what you need to navigate your life. A pedicure doesn't last, but meditating every day does."
Carrie-Anne Moss
"Don't take your health for granted. Don't take your body for granted. Do something today that communicates to your body that you desire to care for it. Tomorrow is not promised."
Jada Pinkett Smith
"Take rest; a field that has rested gives a bountiful crop."
Ovid
You may also like this post filled with Wednesday quotes to get you past the Humpday slump.
Focus on Yourself First to Better Help Others Quotes
"Don't sacrifice yourself too much, because if you sacrifice too much there's nothing else you can give, and nobody will care for you."
Karl Lagerfeld
"To be a good parent, you need to take care of yourself so that you can have the physical and emotional energy to take care of your family."
Michelle Obama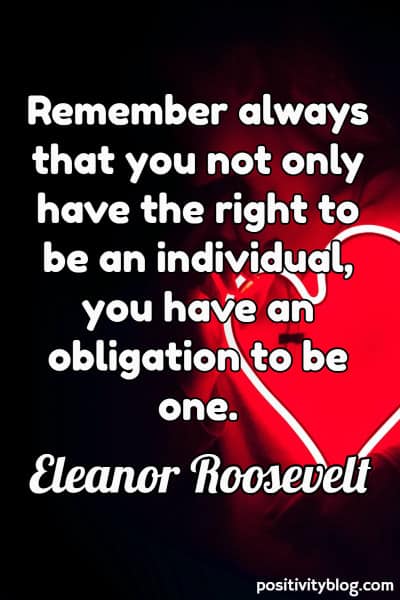 "Remember always that you not only have the right to be an individual, you have an obligation to be one."
Eleanor Roosevelt
"As you grow older, you will discover that you have two hands, one for helping yourself, the other for helping others."
Maya Angelou
"Self-love is an ocean and your heart is a vessel. Make it full, and any excess will spill over into the lives of the people you hold dear. But you must come first."
Beau Taplin
"Be faithful to that which exists within yourself."
André Gide
"Find the love you seek, by first finding the love within yourself. Learn to rest in that place within you that is your true home."
Sri Sri Ravi Shankar
"The perfect man of old looked after himself first before looking to help others."
Chuang Tzu
"Don't rely on someone else for your happiness and self-worth. Only you can be responsible for that. If you can't love and respect yourself – no one else will be able to make that happen. Accept who you are – completely; the good and the bad – and make changes as YOU see fit – not because you think someone else wants you to be different."
Stacey Charter
"If your compassion does not include yourself, it is incomplete."
Jack Kornfield
"Once you embrace your value, talents and strengths, it neutralizes when others think less of you."
Rob Liano
"To be yourself in a world that is constantly trying to make you something else is the greatest accomplishment."
Ralph Waldo Emerson
"Rest and self-care are so important. When you take time to replenish your spirit, it allows you to serve others from the overflow. You cannot serve from an empty vessel."
Eleanor Brownn
Quotes about the Importance of Loving Yourself
"Love yourself first and everything else falls into line. You really have to love yourself to get anything done in this world."
Lucille Ball
"Low self-esteem is like driving through life with your hand-break on."
Maxwell Maltz
"Owning our story and loving ourselves through that process is the bravest thing that we'll ever do."
Brené Brown
"Because one believes in oneself, one doesn't try to convince others. Because one is content with oneself, one doesn't need others' approval. Because one accepts oneself, the whole world accepts him or her."
Lao-Tzu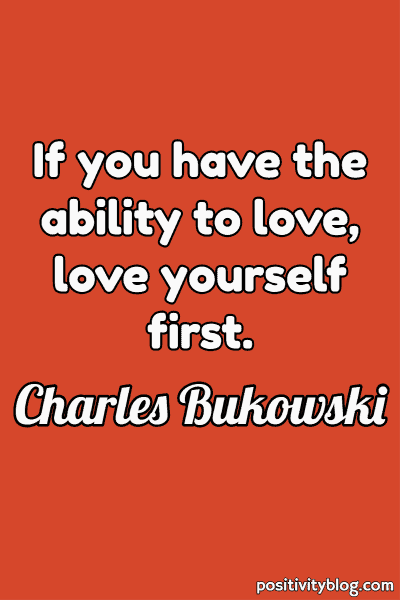 "If you have the ability to love, love yourself first."
Charles Bukowski
"Our self-respect tracks our choices. Every time we act in harmony with our authentic self and our heart, we earn our respect. It is that simple. Every choice matters."
Dan Coppersmith
"Knowing how to be solitary is central to the art of loving. When we can be alone, we can be with others without using them as a means of escape."
Bell Hooks
"To establish true self-esteem we must concentrate on our successes and forget about the failures and the negatives in our lives."
Denis Waitley
"If you aren't good at loving yourself, you will have a difficult time loving anyone, since you'll resent the time and energy you give another person that you aren't even giving to yourself."
Barbara De Angelis
"A man cannot be comfortable without his own approval."
Mark Twain
"People who love themselves, don't hurt other people. The more we hate ourselves, the more we want others to suffer."
Dan Pearce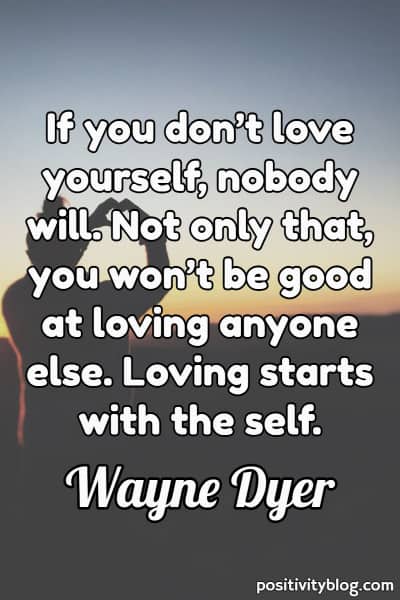 "If you don't love yourself, nobody will. Not only that, you won't be good at loving anyone else. Loving starts with the self."
Wayne Dyer
"To fall in love with yourself is the first secret to happiness."
Robert Morley