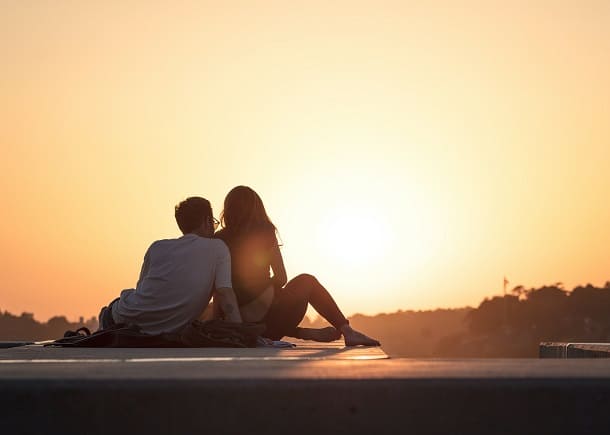 When a relationship begins everything is easy.
You're in love, you're excited and you naturally do sweet things and put in effort.
But as time passes it's easy to forget that love is not just something that is but something you do.
Because you need to be putting effort into the relationship then too. Even more so then because the first phase and beginning of the relationship is now in the rear view mirror.
To help you with that I'd like to share 85 effort in relationship quotes. Inspiration and good advice to help you to keep building a healthy, stable and loving relationship that does not fizzle out but keeps growing for years to come.
And if you want even more relationship quotes then check out this post and also this one filled with I deserve better quotes.
Inspirational Effort in Relationship Quotes
"Love is a lot like flowers. With enough effort and time, it can blossom into something beautiful and unforgettable. But with neglect and dispassion, it can die and be lost forever."
Jocelyn Sanchez
"We expect professional and financial success to require time and effort. Why do we take success in our relationships for granted? Why should we expect harmony to come naturally just because we are in love?"
Eknath Easwaran
"If you're making a conscious effort… someone should be meeting you on the same page."
Turcois Ominek
"Your family and your love must be cultivated like a garden. Time, effort, and imagination must be summoned constantly to keep any relationship flourishing and growing."
Jim Rohn
"Love is not really a mystery. It is a process like anything else. A process that requires trust, effort, focus, and commitment by two willing partners."
Elizabeth Bourgeret
"In today's world, options are everywhere. It takes a great effort to stay faithful, continue to honor your commitment, and do the work it takes to keep your relationship strong."
Jane Greer
"A great relationship is about two things: First, appreciating the similarities and second, respecting the differences."
Unknown
"I love being married. It's so great to find that one special person you want to annoy for the rest of your life."
Rita Rudner
"It's a humbling thing when you find someone to love. Even better if you've been waiting your whole life."
George Clooney
"Remember: life is a crazy ride, its a privilege to go through it with a partner."
Kristen Bell
"Love recognizes no barriers. It jumps hurdles, leaps fences, penetrates walls to arrive at its destination full of hope."
Maya Angelou
"Constancy in love is a good thing; but it means nothing, and is nothing, without constancy in every kind of effort."
Charles Dickens
"Without equanimity, we might give love to others only in an effort to bridge the inevitable and healthy space that always exists between two people."
Sharon Salzberg
"We don't learn to love each other well in the easy moments. Anyone is good company at a cocktail party. But love is born when we misunderstand one another and make it right, when we cry in the kitchen, when we show up uninvited with magazines and granola bars, in an effort to say, I love you."
Shauna Niequist
Effort in Relationship Quotes for a Better Love Life and Friendships
"My great hope is to laugh as much as I cry; to get my work done and try to love somebody and the courage to accept the love in return."
Maya Angelou
"I think to make any relationship work it just takes a tremendous amount of effort and accepting of one another."
Rebecca Romijn
"There is no better life than a life spent laboring at love – exerting effort not because we have to, but because we believe that what we are bringing into being is valuable and we want it to exist. Yet because our culture tends to misunderstand the nature of labor and of love, we undervalue both."
Moira Weigel
"Those who show lack of effort with themselves, will not be capable of making any extra effort for you."
Christine Szymanski
"Without putting in some effort, everything that you do will just be some futile thing, my dear."
Unknown
"Do you really love me? means: Will you accept me in the process? Will you embrace what is different about me and applaud my efforts to become? Can I just be human? Strong and vibrant some days, weak and frail on others?"
Angela Thomas
"Love is what is left in a relationship after all the selfishness is taken out."
Nick Richardson
"Happiness can be measured by how much effort you gave and how much it has paid off then."
Unknown
"If people put in the same effort to keep you as they did to get you, most relationships would last."
Rashida Rowe
"You may not be able to help whom you are attracted to, but you can choose to whom you love and how. That is to say that love is a commitment that your heart and your mind make. It is an active and ever-evolving process, a conscious choice that takes effort and maintenance."
Niecy Nash
"Effort is a two way thing. If someone wanted to put in effort, they would, so there's no point chasing."
Unknown
"Accepting yourself only as long as you look a certain way isn't self love, it's self destruction."
Laci Green
"Let's not forget it's you and me vs the problem. Not you vs. me."
Steve Maraboli
"And the truth is that there is some satisfaction when you figure out that your effort worked out."
Unknown
"God is limitless in his love, and asks that we at least make the effort to be limitless in ours."
Marianne Williamson
"In a relationship, no amount of extra effort on your part can make up for a lack of effort on theirs."
John Mark Green
"If someone really wanted you, they'd actually put some effort into trying to get your attention and make sacrifices for you. They wouldn't just tell you they want you; they would show you in every little way possible that they want you."
Unknown
"You should not be hovering in the background, inflating the drama. Simply envelop him in love and affection and let him know that you will support his efforts, whatever they are."
Amy Dickinson
"No relationship works without making an effort. That goes without saying. But you should never overcompensate."
Sonam Kapoor
"Relationships fail because people take their own insecurities and try and twist them into their partner's flaws."
Baylor Barbee
"If you want to be in my future, make an effort to be a part of my present, or all you will ever be is someone from my past."
Unknown
"You can measure the happiness of a marriage by the number of scars that each partner carries on their tongues, earned from years of biting back angry words."
Elizabeth Gilbert
Wise Effort Quotes About Relationships
"People put so much effort into starting a relationship and so little effort into ending one."
Marina Abramovic
"Falling in love, finding your way into a new relationship is one of the best feelings in life. At first it's all so effortless. But as time goes by, remember that love is a verb and that you have to put continuous effort into it to keep it blossoming and not slowly wither."
Unknown
"People stand in front of an officiant and say 'I do' but that shouldn't mean 'I'm done' when it comes to putting time and effort into growing their relationship."
Beth Ehemann
"Remember that the best relationship is one in which your love for each other exceeds your need for each other."
Dalai Lama
"Through my friends I discovered what it was to love people. There was an art to it … which was not really all that different from the love that is necessary in the making of art. It required the effort of always seeing them for themselves and not as I wished them to be."
Lucy Grealy
"If you let her know that she is your priority and remind her from time to time how much you in fact care, you'll be amazed at how many problems disappear in your relationship."
Unknown
"It takes courage to love, but pain through love is the purifying fire which those who love generously know. We all know people who are so much afraid of pain that they shut themselves up like clams in a shell and, giving out nothing, receive nothing and therefore shrink until life is a mere living death."
Eleanor Roosevelt
"We're all a little weird. And life is a little weird. And when we find someone whose weirdness is compatible with ours, we join up with them and fall into mutually satisfying weirdness—and call it love—true love."
Robert Fulghum
"Stop putting in an effort into those who show no effort towards you. There's only so much you can do before you're wasting your energy and time."
Unknown
"Truth is: everybody is going to hurt you. You just got to find the ones worth suffering for."
Bob Marley
"It is not those who commit the least faults who are the most holy, but those who have the greatest courage, the greatest generosity, the greatest love, who make the boldest efforts to overcome themselves, and are not immediately apprehensive about tripping."
Saint Francis De Sales
"Apologizing does not mean that you're wrong and the other person is right. It just means that you value your relationship more than your ego."
Unknown
"The really important kind of freedom involves attention, and awareness, and discipline, and effort, and being able truly to care about other people and to sacrifice for them, over and over, in myriad petty little unsexy ways, every day."
David Foster Wallace
"It's a beautiful feeling when you know that someone is making an effort just to make you smile."
Unknown
"Hate is infectious, but so is love, the difference between the two is one takes effort and the other one doesn't."
Dave Guerrero
"Everybody needs a partner to stand right by their side. Not only down for the good times. But also down through the bad times."
Will Smith
"All relationships have one law. Never make the one you love feel alone, especially when you're there."
Unknown
"Make every effort matter, and always make the following effort better than the last one."
Hermann J Steinherr
"A dream you dream alone is only a dream. A dream you dream together is reality."
Yoko Ono
"The right person will pursue you with clear intentions, have upfront communication, consistent effort, and never would lead you on."
Michael Bliss
"You can put all your effort in trying to make someone happy… but there comes a time when we become tired of trying to fill a bucket that is leaking from the inside."
Steve Maraboli
"The most important thing in life is to learn how to give out love, and to let it come in."
Morrie Schwartz
"Love is a seed that has to be watered with effort and consistency. Lack thereof will cause the fire that once existed between two souls to burn out."
Pierre Alex Jeanty
"Success is the sum of small efforts, repeated day-in and day-out."
Robert Collier
Short Effort in Relationship Quotes
"Love is a two-way street constantly under construction."
Carroll Bryant
"If you are not willing to be putting effort in, don't expect it in return."
Unknown
"Finding your soul mate isn't the hard part; staying together is."
Neha Yazmin
"No matter how much effort you put in, some people just won't appreciate it."
Unknown
"The minute you start keeping score, you're destroying the relationship."
Tony Robbins
"If you're always the one putting in less effort then don't expect the relationship to last."
Unknown
"Don't expect a man will try any harder to keep you than he did to get you."
Angela N. Blount
"If someone believes you are worth the effort they will make the effort."
Kevin Darné
"And in putting effort, you double the value of the things that you do, it is going to be okay too."
Unknown
"Patient and persistent attitude will move mountains."
Lailah Gifty Akita
"The relationship of husband and wife should be one of closest friends."
B.R Ambedkar
"If you put the time and effort into a relationship, it will last forever."
Moses Gazman Mukhansi
"Relationships are a two-way street, not a highway and a bike path."
Vince Vaughn
"A true relationship is two imperfect people refusing to give up on each other."
Unknown
"Far too many people are looking for the right person, instead of trying to be the right person."
Gloria Steinem
"Everything one does is just another effort to be understood by someone a little bit more."
Vatsal Surti
"Happily ever after is not a fairytale. It's a choice."
Fawn Weaver
"If the feelings are mutual, the effort will be equal."
Unknown
"Life and love generate effort, but effort will not generate them."
Alan Watts
"Happiness is a choice that requires effort at times."
Aeschylus
"It also takes conscious effort and decision to choose to love."
Lailah Gifty Akita
"The way to love anything is to realize that it may be lost."
Gilbert K. Chesterton
"Love includes fellowship in suffering, in joy and in effort."
Albert Schweitzer
"The course of true love never did run smooth."
William Shakespeare
"In the end, the love you take is equal to the love you make."
Paul McCartney
If you liked these effort relationship quotes then share them with a family member or friend that may need it right now via social media or email.
Want even more motivation to help you with the things that truly matter in relationships? Check out this post with inspiring quotes about dealing with toxic people and this one about focusing on building your best self and best life.