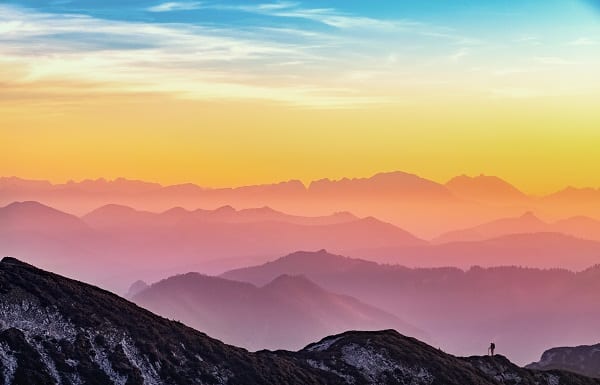 Today I'd like to share the best and most powerful quotes about change.
Because change is inevitable. Sometimes it surprises and tackles us on a regular Tuesday afternoon.
At other times we may simply realize that a change is needed to live a happier, less stressful or more successful life.
So in this post you'll find 101 of the most helpful and thought-provoking quotes about dealing with change and about making a change happen in your own life.
And if you want more motivation then have a look at this post with quotes about courage and also this one that will help you to stop procrastinating.
Inspirational Quotes about Change in Life
"Be the change that you wish to see in the world."
Mahatma Gandhi
"You never change your life until you step out of your comfort zone; change begins at the end of your comfort zone."
Roy T. Bennett
"If you don't like something change it; if you can't change it, change the way you think about it."
Mary Engelbreit
"Only I can change my life. No one can do it for me."
Carol Burnett
"Life is a series of natural and spontaneous changes. Don't resist them; that only creates sorrow. Let reality be reality. Let things flow naturally forward in whatever way they like."
Lao Tzu
"If you can't change it, change your attitude."
Maya Angelou
"Words are powerful; if you change your words, you can change your life."
Joyce Meyer
"I didn't get there by wishing for it or hoping for it, but by working for it."
Estée Lauder
"When patterns are broken, new worlds emerge."
Tuli Kupferberg
"Vulnerability is the birthplace of innovation, creativity and change."
Brene Brown
"A ship in a harbor is safe, but that's not why ships are built"
John A. Shedd
"When the winds of change blow, some people build walls and others build windmills."
Chinese proverb
"Be miserable. Or motivate yourself. Whatever has to be done, it's always your choice."
Wayne Dyer
"The changes we dread most may contain our salvation."
Barbara Kingsolver
"Even if you cannot change all the people around you, you can change the people you choose to be around. Life is too short to waste your time on people who don't respect, appreciate, and value you. Spend your life with people who make you smile, laugh, and feel loved."
Roy T. Bennett
"Adversity is like a strong wind. It tears away from us all but the things that cannot be torn, so that we see ourselves as we really are."
Arthur Golden
"You must welcome change as the rule, but not as your ruler."
Denis Waitley
"True life is lived when tiny changes occur."
Leo Tolstoy
"When in doubt, choose change."
Lily Leung
"Incredible change happens in your life when you decide to take control of what you do have power over instead of craving control over what you don't."
Steve Maraboli
"You may have to fight a battle more than once to win it."
Margaret Thatcher
"Don't wait until everything is just right. It will never be perfect. There will always be challenges, obstacles and less than perfect conditions. So what. Get started now. With each step you take, you will grow stronger and stronger, more and more skilled, more and more self-confident and more and more successful."
Mark Victor Hansen
"By changing nothing, nothing changes."
Tony Robbins
"Change the way you look at things and the things you look at change."
Wayne W. Dyer
"A wise man changes his mind, a fool never will."
Spanish Proverb
"In times of great stress or adversity, it's always best to keep busy, to plow your anger and your energy into something positive."
Lee Iacocca
"Consider how hard it is to change yourself and you'll understand what little chance you have in trying to change others."
Jacob M. Braude
"To exist is to change, to change is to mature, to mature is to go on creating oneself endlessly."
Henri Bergson
"Life isn't about finding yourself. Life is about creating yourself."
George Bernard Shaw
"The greatest discovery of all time is that a person can change his future by merely changing his attitude."
Oprah Winfrey
"The people who are crazy enough to think they can change the world are the ones who do."
Steve Jobs
"All the adversity I've had in my life, all my troubles and obstacles, have strengthened me… You may not realize it when it happens, but a kick in the teeth may be the best thing in the world for you."
Walt Disney
"Obstacles don't have to stop you. If you run into a wall, don't turn around and give up. Figure out how to climb it, go through it, or work around it."
Michael Jordan
"Any change, even a change for the better, is always accompanied by discomforts."
Arnold Bennett
"Not everything that is faced can be changed, but nothing can be changed until it is faced."
James Baldwin
"Twenty years from now you will be more disappointed by the things that you didn't do than by the ones you did do. So throw off the bowlines. Sail away from the safe harbor. Catch the trade winds in your sails. Explore. Dream. Discover."
Mark Twain
"Yesterday I was clever, so I wanted to change the world. Today I am wise, so I am changing myself."
Rumi
"If you want to change the world, pick up your pen and write."
Martin Luther
"Those who cannot change their minds cannot change anything."
George Bernard Shaw
"God grant me the serenity to accept the things I cannot change, the courage to change the things I can, and the wisdom to know the difference."
Reinhold Niebuhr
"When we least expect it, life sets us a challenge to test our courage and willingness to change; at such a moment, there is no point in pretending that nothing has happened or in saying that we are not yet ready. The challenge will not wait. Life does not look back. A week is more than enough time for us to decide whether or not to accept our destiny."
Paulo Coelho
"Everyone thinks of changing the world, but no one thinks of changing himself."
Leo Tolstoy
"One child, one teacher, one book, and one pen can change the world."
Malala Yousafzai
"Though I might travel afar, I will meet only what I carry with me, for every man is a mirror. We see only ourselves reflected in those around us.
Their attitudes and actions are only a reflection of our own.
The whole world and its condition has its counter parts within us all.
Turn the gaze inward. Correct yourself and your world will change."
Kristen Zambucka
"It's never too late to be who you might have been."
George Eliot
Quotes about Change and Growth
"In any given moment we have two options: to step forward into growth or step back into safety."
Abraham Maslow
"When we are no longer able to change a situation, we are challenged to change ourselves."
Victor Frankl
"Some people believe holding on and hanging in there are signs of great strength. However, there are times when it takes much more strength to know when to let go and then do it."
Ann Landers
"Growth and comfort do not coexist."
Ginni Rometty
"Anyone who isn't embarrassed of who they were last year probably isn't learning enough."
Alain de Botton
"Your assumptions are your windows on the world. Scrub them off every once in a while, or the light won't come in."
Isaac Asimov
"The first step toward success is taken when you refuse to be a captive of the environment in which you first find yourself."
Mark Caine
"If we don't change, we don't grow. If we don't grow, we aren't really living."
Gail Sheehy
"Change, like healing, takes time."
Veronica Roth
"People do not change, they are merely revealed."
Anne Enright
"If I am an advocate for anything, it is to move. As far as you can, as much as you can. Across the ocean, or simply across the river."
Anthony Bourdain
"When people are ready to, they change. They never do it before then, and sometimes they die before they get around to it. You can't make them change if they don't want to, just like when they do want to, you can't stop them."
Andy Warhol
"I wanted to change the world. But I have found that the only thing one can be sure of changing is oneself."
Aldous Huxley
"Change the changeable, accept the unchangeable, and remove yourself from the unacceptable."
Denis Waitley
"You will find that it is necessary to let things go; simply for the reason that they are heavy."
C. JoyBell C.
"Education is the most powerful weapon which you can use to change the world."
Nelson Mandela
"I have accepted fear as part of life — specifically the fear of change… I have gone ahead despite the pounding in the heart that says: turn back."
Erica Jong
"We are taught you must blame your father, your sisters, your brothers, the school, the teachers – but never blame yourself. It's never your fault. But it's always your fault, because if you wanted to change you're the one who has got to change."
Katharine Hepburn
"Change is inevitable. Growth is optional."
John Maxwell
"Follow effective actions with quiet reflection. From the quiet reflection will come even more effective action."
Peter Drucker
"When you come out of the storm, you won't be the same person who walked in. That's what this storm's all about."
Haruki Murakami
"Anger, resentment and jealousy doesn't change the heart of others– it only changes yours."
Shannon Alder
"When the Japanese mend broken objects, they aggrandize the damage by filling the cracks with gold. They believe that when something's suffered damage and has a history it becomes more beautiful."
Barbara Bloom
"Some changes look negative on the surface but you will soon realize that space is being created in your life for something new to emerge."
Eckhart Tolle
"Procrastination is the fear of success. People procrastinate because they are afraid of the success that they know will result if they move ahead now. Because success is heavy, carries a responsibility with it, it is much easier to procrastinate and live on the 'someday I'll' philosophy."
Denis Waitley
"No matter who you are, no matter what you did, no matter where you've come from, you can always change, become a better version of yourself."
Madonna
"Life will only change when you become more committed to your dreams than you are to your comfort zone."
Billy Cox
"Whenever you're in conflict with someone, there is one factor that can make the difference between damaging your relationship and deepening it. That factor is attitude."
William James
"The only way to make sense out of change is to plunge into it, move with it, and join the dance."
Alan Watts
"Change is painful, but nothing is as painful as staying stuck somewhere you don't belong."
Mandy Hale
"Keep away from people who try to belittle your ambitions. Small people always do that, but the really great make you feel that you, too, can become great."
Mark Twain
"Some of us think holding on makes us strong, but sometimes it is letting go."
Hermann Hesse
"The best years of your life are the ones in which you decide your problems are your own. You do not blame them on your mother, the ecology, or the president. You realize that you control your own destiny."
Albert Ellis
"When things go wrong as they sometimes will,
When the road you're trudging seems all uphill,
When the funds are low and the debts are high,
And you want to smile but you have to sigh,
When care is pressing you down a bit
Rest if you must, but don't you quit.
Success is failure turned inside out,
The silver tint on the clouds of doubt,
And you can never tell how close you are,
It may be near when it seems afar.
So, stick to the fight when you're hardest hit
It's when things go wrong that you mustn't quit."
Edgar A. Guest
"Good things take time."
John Wooden
"The only person you are destined to become is the person you decide to be."
Ralph Waldo Emerson
"If you don't change your beliefs, your life will be like this forever. Is that good news?"
W. Sommerset Maugham
"A year from now you may wish you had started today."
Karen Lamb
Motivating Quotes about Change in Business
"The successful man is the one who finds out what is the matter with his business before his competitors do."
Roy L. Smith
"The pessimist complains about the wind; the optimist expects it to change; the realist adjusts the sails."
William Arthur Ward
"If you know what you want to achieve in life, then you are more inspired to change for the better."
Philip Vang
"Resistance is never the agent of change. You have to embrace the actions that are going to get you closer to your goal."
Ali Vincent
"Things work out best for those who make the best of how things work out."
John Wooden
"They always say time changes things, but you actually have to change them yourself."
Andy Warhol
"Only the wisest and stupidest of men never change."
Confucius
"Failure is a bend in the road, not the end of the road. Learn from failure and keep moving forward."
Roy T. Bennett
"Open your arms to change, but don't let go of your values."
Dalai Lama
"Change is the law of life. And those who look only to the past or present are certain to miss the future."
John F. Kennedy
"Never doubt that a small group of thoughtful, committed, citizens can change the world. Indeed, it is the only thing that ever has."
Margaret Mead
"Dripping water hollows out stone, not through force but through persistence."
Ovid
"All men make mistakes, but a good man yields when he knows his course is wrong, and repairs the evil. The only crime is pride."
Sophocles
"If opportunity doesn't knock, build a door."
Milton Berle
"You cannot change your destination overnight, but you can change your direction overnight."
Jim Rohn
"Maturity is when you stop complaining and making excuses, and start making changes."
Roy T. Bennett
"Failure is not fatal, but failure to change might be."
John Wooden
"It is not the strongest of the species that survive, nor the most intelligent, but the one most responsive to change."
Charles Darwin