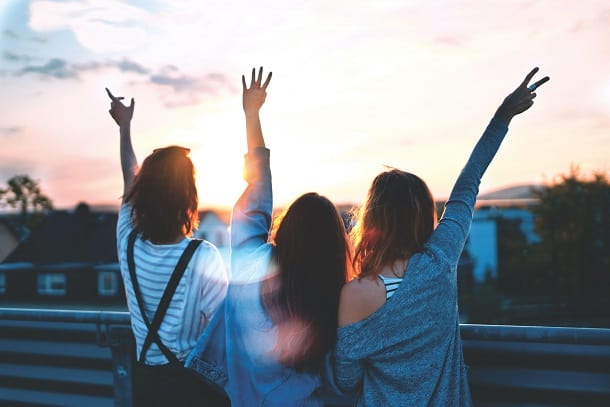 Friday is finally here again.
The end of the work week. And the start of the weekend.
It's one of the best days of the week and in this post I'd like to share 107 of the most uplifting, happy and inspiring Friday quotes.
To help you finish the work week strong, celebrate that this week at school or at work is soon done and to set you up for a great, fun-filled and recharging weekend.
And if you want even more inspiration for this weekend then check out this post with Saturday quotes this one filled to the brim with Sunday quotes.
Inspirational Friday Quotes
"It's time to embrace the crazy beautiful mess that you are because it's almost the weekend."
– Unknown
"It's finally Friday, I'm free again. I got my motor running for a wild weekend."
– George Jones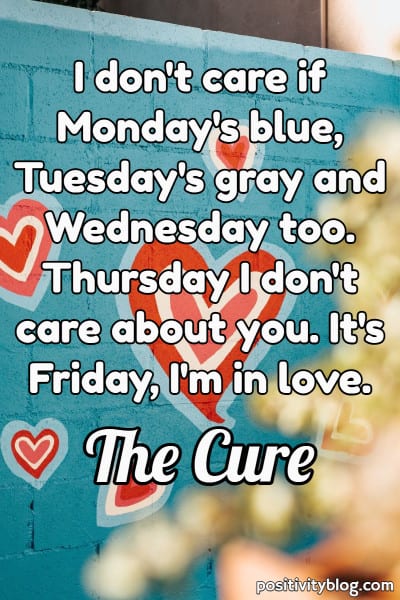 "I don't care if Monday's blue, Tuesday's gray and Wednesday too. Thursday I don't care about you. It's Friday, I'm in love."
– The Cure
"I believe that it is a mandatory Law of the Universe that on Fridays, you have to do something a little fun."
– Hanna Rhoades
"Music always sounds better on Friday."
– Lou Brutus
"Friday fills my day with hope and happiness."
– Anthony T. Hincks
"Think about how you can spread positive vibes to the people at work or in school on this fine Friday."
– Unknown
"Don't wait all week for Friday so you can enjoy life. Find a job you love so you can enjoy every day of the week."
– Catherine Pulsifer
"Happiness, not in another place but this place… not for another hour, but this hour."
– Walt Whitman
"Make each day of the week like Friday and your life will take on new enthusiasm."
– Byron Pulsifer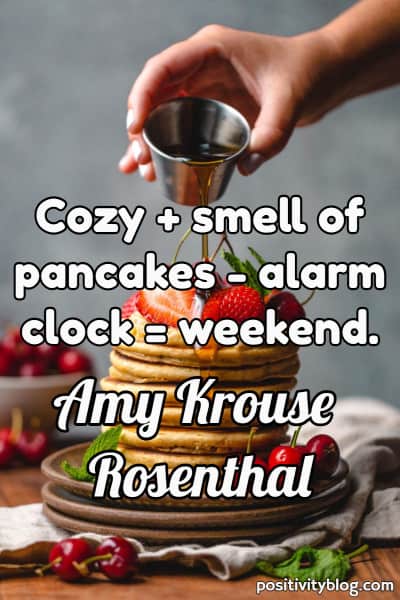 "Cozy + smell of pancakes – alarm clock = weekend"
– Amy Krouse Rosenthal
Friday Quotes to Celebrate the End of the Work Week
"Happy Friday! Here's to all of us who made it through another week of faking adulthood."
– Nanea Hoffman
"It's 4:58 on Friday afternoon. Do you know where your margarita is?"
– Amy Neftzger
"Friday afternoon feels like heaven."
– El Fuego
"Friday. The golden child of the weekdays. The superhero of the workweek. The welcome wagon to the weekend."
– Unknown
"I am instantly 70% nicer after 3 pm on Friday. If my boss knew how unproductive I am on Fridays, he wouldn't want me here either."
– James Johnson
"Every Friday, I like to high five myself for getting through another week on little more than caffeine, willpower, and inappropriate humor."
– Nanea Hoffman
"When he worked, he really worked. But when he played, he really played."
– Dr. Seuss
"A wild and crazy weekend involves sitting on the front porch, smoking a cigar, reading a book."
– Robert M. Gates
"Not for nothing is their motto TGIF – 'Thank God It's Friday.' They live for the weekends, when they can go do what they really want to do."
– Richard Nelson Bolles
"Work starts on Monday. Life begins on Friday."
– Ozama Yasin
"Happy Friday Evening! Let go of your stress. Shed your worries. And spend the next few days just recharging with love and fun."
– Jessie Anthony
"When you start to do the things that you truly love, it wouldn't matter whether it is Monday or Friday; you would be so excited to wake up each morning to work on your passions."
– Edmond Mbiaka
"The purpose of life is to live it, to taste experience to the utmost, to reach out eagerly and without fear for newer and richer experience."
– Eleanor Roosevelt
"Live and work but do not forget to play, to have fun in life and really enjoy it."
– Eileen Caddy
"Friday afternoon feels different. It's my favorite time on my favorite day of the week. The weekend is almost here and I feel free and eager to go explore the world around me."
– Elias Timbough
"Friday sees more smiles than any other day of the workweek!"
– Kate Summers
Happy Friday Quotes for a Great Weekend
"I never watch anything live, I record all my programmes and have a real binge on a Friday night and watch them all."
– Katie Piper
"People are surprised at how down-to-earth I am. I like to stay home on Friday nights and listen to 'The Art of Happiness' by the Dalai Lama."
– Carmen Electra
"You know you're doing what you love when Sunday nights feel the same as Friday nights."
– Donny Deutsch
"I have never in my life found myself in a situation where I've stopped work and said, 'Thank God it's Friday.' But weekends are special even if your schedule is all over the place. Something tells you the weekend has arrived and you can indulge yourself a bit."
– Helen Mirren
"Oh! It's Friday again. Share the love that was missing during the week. In a worthy moment of peace and bliss."
– S. O'Sade
"When Friday arrives, allow yourself to relax a bit and to plan for a fun evening. It's important to have something to look forward to re-energize yourself."
– Unknown
"The proper function of man is to live, not to exist. I shall not waste my days in trying to prolong them. I shall use my time."
– Jack London
"Weekends welcome warriors for social fun that starts on Friday."
– David Chiles
"The pleasure which we most rarely experience gives us greatest delight."
– Epictetus
"It's a funny thing about life, once you begin to take note of the things you are grateful for, you begin to lose sight of the things that you lack."
– Germany Kent
"It's Friday! Time to go make stories for Monday."
– Unknown
"God bless you and have a wonderful weekend! Make this a good Friday filled with kindness and all your heart desires will be yours in time."
– Eva Donnelly
"We don't laugh because we're happy – we're happy because we laugh."
– William James
"It's not that we spend five days looking forward to just two. It's that most people do what they enjoy most on those two days. Imagine living a life where every day is your Saturdays and Sundays. Make every day your weekend. Make every day a play-day…"
– James A. Murphy
"Today was good. Today was fun. Tomorrow is another one."
– Dr. Seuss
"On a Friday night, I like to go out because my friends, who have been working normal hours, just want to let go after a stressful week at work."
– Douglas Booth
Motivational Friday Quotes to Finish Your Work Week Strong
"This Friday, finish your work and be done. Look forward to the weekend and have some fun!"
– Kate Summers
"Let's finish strong and then have a recharging and blessed weekend rest."
– Unknown
"Getting up on Friday morning comes easy because you know the fun and relaxing weekend is just hours away."
– Jim Harris
"It's Friday morning, mankind! Good vibe, don't frown and let the monster see you smile!"
– Napz Cherub Pellazo
"Make a Friday a day to celebrate work well done that you can be proud of knowing that you just didn't put in time to the next paycheck."
– Byron Pulsifer
"Don't count the days. Make the days count."
– Muhammad Ali
"Do your best today and you'll be able to better and more fully enjoy your awesome weekend rest."
– Unknown
"Every day may not be good… but there's something good in every day."
– Alice Morse Earle
"Positive thinking is more than just a tagline. It changes the way we behave. And I firmly believe that when I am positive, it not only makes me better, but it also makes those around me better."
– Harvey Mackay
"How you start your Friday will likely set the tone for your whole day. So focus on positivity, kindness and on relaxing instead of stressing."
– Rip Miller
"Friday is a day to finish your goals for the week. It is a day to celebrate that which you set out to accomplish at the beginning of the week."
– Byron Pulsifer
"Positivity always wins… always."
– Gary Vaynerchuk
"This Friday: finish strong but also set off some time to review the stumbling blocks of the past week. Do that to see how you can do things better next week and make the best out of the awesome things waiting for you there."
– Unknown
"People like to be around those who give off positive energy."
– Erin Heatherton
"Either you run the day or the day runs you."
– Jim Rohn
Insightful Friday Quotes
"Although I understand that all days are equal with 24 hours each, most of us agree that Friday is the longest day of the week and Sunday the shortest!"
– D.S. Mixell
"The only reason why we ask other people how their weekend was is so we can tell them about our own weekend."
– Chuck Palahniuk
"When you leave work on Friday, leave work. Don't let technology follow you throughout your weekend (answering text messages and emails). Take a break; you will be more refreshed to begin the workweek if you have had a break."
– Catherine Pulsifer
"Youth is like a long weekend on Friday night. Middle age is like a long weekend on Monday afternoon."
– Richard Nelson Bolles
"I never have written every day. When I'm writing a book, I write Monday through Friday. I always try to take Saturday and pretend to have some sanity."
– Maya Angelou
"Time you enjoy wasting is not wasted time."
– Marthe Troly-Curtin
"Friday and the weekend can be a great time to relax and to change your perspective. To let go of all the troubles, all the sorrow, all your negativity and just be. To put your mental baggage down by the side of the road and keep walking but in a lighter way, with your eyes towards the future."
– Rip Miller
"And in the end, it's not the years in your life that count. It's the life in your years."
– Abraham Lincoln
"Always take some of the play, fun, freedom and wonder of the weekend into your week and your work."
– Rasheed Ogunlaru
"We're so busy watching out for what's just ahead of us that we don't take time to enjoy where we are."
– Bill Watterson
"You tend to get what you give so if you want to make your Friday and weekend shine brighter and with love you usually have to do that to other people first."
– Maura Miles
"No weekend, all weakened."
– Toba Beta
"Most people would rather be certain they're miserable, than risk being happy."
– Robert Anthony
"Fridays are the hardest in some ways: you're so close to freedom."
– Lauren Oliver
"If every day at work feels like a Friday, then you are doing what you were meant to do."
– Alan W. Kennedy
Short Friday Quotes
"It's Friday night. Time to be a hero and rescue some wine trapped in a bottle."
– Unknown
"Making food is a wonderful way to spend a Friday night."
– Chrissy Teigen
"Who cares about Thursday's happy hour when Friday is upon us?"
– Unknown
"But it's Friday" is a valid excuse for almost anything today."
– William Anderson
"It's always difficult to keep Fridays confined within themselves…they tend to spill over…"
– Parag Tipnis
"Thursday, which is 'Friday Eve' in Optimisian."
– Unknown
"Ah Friday… second favorite f word."
– Unknown
"Any decent man would know better than scheduling meetings for Friday afternoon."
– Romila Okaidu
"Here's the welcome wagon to your very own weekend and days free from work. Make them into what you want them to be."
– Unknown
"You know what I want to do? Wake up one weekend and not have to go anywhere and do nothing."
– Derek Jeter
"It's been an awesome week. An amazing week even. But I'm glad the weekend is here now because I'm happy but also dead tired."
– Tim Wallins
"People wait all week for Friday, all year for summer, all life for happiness."
– Raimonda B.
"May today be the Fridayest Friday that ever Fridayed."
– Unknown
"You know what rhythms with Friday? Wine."
– Jack Davis
"Friday's a free day. A woman's day ."
– Neil Gaiman
"Without the weekend, where would the week be?"
– Anthony T. Hincks
"You're only given a little spark of madness. You mustn't lose it."
– Robin Williams
"Slow down and remember this: Most things make no difference."
– Tim Ferriss
"Life shrinks or expands in proportion to one's courage."
– Anais Nin
"Focus on an ocean of positives, not a puddle of negatives."
– Kevin Ansbro
"If you must have motivation, think of your paycheck on Friday."
– Noel Coward
Other Friday Quotes and Sayings
"Friday: The day after Thursday and before Saturday according to Rebecca Black. Also the most annoying day of the week now."
– Aaron Peckham
"Can we take a lunch break on Friday and come back the next Friday?"
– Unknown
"On Friday night, I was reading my new book, but my brain got tired, so I decided to watch some television instead."
– Stephen Chbosky
"Life is like Friday on a soap opera. It gives you the illusion that everything is going to wrap up, and then the same old sh*t starts up on Monday."
– Stephen King
"Employers are at their happiest on Mondays. Employees are at their happiest on Fridays."
– Mokokoma Mokhonoana
"Who cares about Thursday's happy hour when Friday is upon us?"
– Unknown
"Hands up if you're ready to do something you'll regret this weekend. Go forth! You have my blessing."
– Florence Welch
"For most Americans , Friday afternoons are filled with positive anticipation of the weekend. In Washington, it's where government officials dump stories they want to bury."
– John Sununu
"Thursday doesn't even count as a day; it's just the thing that's blocking Friday."
– Unknown
"Life must be terrible for working people, considering they spend every Friday night celebrating a two-day break from it."
– Robert Black
"I like going to the movies on a Friday night and seeing something fun."
– Charlie Kaufman
"On Monday morning, I look forward fearlessly to Friday's eve."
– Ellen Wittlinger
If you liked these Friday quotes then share them with a friend or co-worker that could need them right now via social media or email.
Want more motivation for next week? Then check out this post with motivational Monday quotes, this one with Tuesday quotes and this one with Wednesday quotes to get you through hump day. Plus, this post with Thursday quotes to give you a boost of energy.