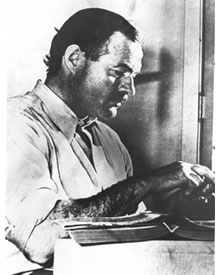 "The world is a fine place and worth the fighting for and I hate very much to leave it."
As you probably know Ernest Hemingway was a writer, journalist and Nobel Prize Winner. Some of his most famous stories include "The Old Man and The Sea" and "The Sun Also Rises".
He also participated in both World Wars and worked as a correspondent during for instance the Spanish Civil War.
Now, here are 9 of my favourite words of wisdom from Ernest Hemingway.
1. Listen.
"I like to listen. I have learned a great deal from listening carefully. Most people never listen."
Learning to really listen to someone rather just waiting for our turn to talk can be a difficult skill to develop. Often we may have much on our mind that we want to say and so listening falls by the wayside.
How can you become a better listener? Here are three tips:
Forget about yourself. Focus your attention outward instead of inward in a conversation. Place the mental focus on the person you are talking and listening to instead of yourself. Placing the focus outside of yourself makes you less self-centred and your need to hog the spotlight decreases.
Stay present. This will help you to decrease the bad habit of thinking about the future and what you should say next while trying to listen. If you are present and really there while listening then that will also come through in your body language, which gives the person talking a vibe and feeling that you are really listening to what s/he has to say.
Be open. Keep your mind open to the possibility that whatever the person is about to say will actually be interesting. If you have already made up your mind that he or she will say something boring then it will be hard to pay attention.
Also, if you really listen then that alone will often provide you naturally with a better and more genuine answer than the clever response thought up while trying to listen simultaneously.
2. Take the first step.
"The best way to find out if you can trust somebody is to trust them."
The thing is if two people or more are waiting for someone else to take the first step then that step may never be taken. Or you may at least have to wait for a very long time.
If you after some time realize that, like in this example, you couldn't trust the person then at least you have learned that.
By not taking the first step you'll perhaps never know. So instead of waiting around and trying to figure things out just take first steps of different kinds in interactions. Be proactive.
3. Keep your eyes on where you are going.
"Never mistake motion for action."
It's very easy to get lost in busy work. You may spend much time in your in-box or filing and organizing things. But at the end of the day or week, what have you accomplished?
Just because you're moving doesn't mean that you are moving in the direction you really want to go.
To do that you have to do the things that you know are really important and in alignment with your goals. And not getting lost in busy work.
So, improve your effectiveness and productivity.
But, more importantly, never lose your view of your big picture. And take the action and do the things you need to do to get yourself where you want to go.
4. Just do.
"The shortest answer is doing the thing."
How do you get things done? You take action and do them.
You may need to do some planning, but don't get lost in that stage or in over thinking things. Planning or thinking won't get you any results in real-life if you don't take action too.
So take action and just try something.
Maybe you'll succeed. Maybe you'll fail, but if you do then failure can always teach you a bunch of things.
The worst thing is not failure, it's to just sit on your hands and do nothing.
Developing a "just do it" habit – where you learn to do what you know you want to do despite how you feel or what your thoughts are telling you at the moment – can be difficult.
But it's rewarding not only because you'll get actual results and – sooner or later – success. It also builds real confidence in yourself, in your capabilities and in your own personal power to achieve what you want in life.
5. Do. Fail. Learn. Do.
"The first draft of anything is shit."
So you have to keep your eyes on where you are going and do the right things to get yourself there. However, you will not always get what you want on your first try.
No worries though, if you have the right attitude.
What attitude is that?
The attitude of the much younger you.
The kid who learned to walk and ride a bike. A younger you that doesn't put so much value into a failure. But instead just gets up after falling down, learns a lesson or two from what happened and then tries again.
And again.
By cultivating that way of thinking about failure – instead of the more usual, more grown up one where you may think that the world will come to an end just because you failed – you can over time achieve some pretty awesome things.
6. Find strength through your tough times.
"The world breaks everyone, and afterward, some are strong at the broken places."
This is a really interesting point.
Because it's really easy to let yourself fall into a frame of mind where you think that no-one has had it worse than you and that this and this happened and that's why you are like you are. And of course, some people have had a much worse time than others.
But I think it's easy to let yourself fall into a kind of victim thinking where you let your troubles in the past act as reasons why you can't do something now. But one must remember: that is the past.
And people's problems are rarely as unique as we may think. Everyone has had bad stuff happen to them. People may not talk about it and you may assume that it's just you that has have these bad experiences.
But as Hemingway says, everyone has been broken in a kind of way throughout their life. It's kinda unavoidable.
But the question is what you do now.
Do you let those old things hold you back and allow them help the ego to build an even stronger victim identity?
Or can you let them go and live in the present – as the person you are now rather than who you were – with plans for the future?
Everyone has to handle such a thing in their own way. But it is up to just one person to decide on how handle it. And that's you.
7. Don't get hung up on the small things in life.
"The man who has begun to live more seriously within begins to live more simply without."
When you start to take life more seriously you may realize that you can let a whole lot of things just go.
You don't have the patience, time or energy to worry about the small and petty things anymore. You don't get wrapped up in things that are totally unimportant.
You start simplifying your life because you realize that your time isn't unlimited. You remove a lot of the less important things to have more time and energy for the really exciting and important stuff.
Have a look at what's really important in your life. If you are unsure about if it's really important, try asking yourself:
Will this matter 5 years from now?
Then simplify, simplify, simplify. You may be surprised at how much kinda unimportant important stuff that there is in your mind and life.
You may also feel lighter after having done some decluttering because you are no longer bogged down by boatloads of stuff that you have now realized is pretty irrelevant.
8. Don't let your imagination hold you back.
"Cowardice … is almost always simply a lack of ability to suspend the functioning of the imagination."
Your imagination can really play tricks on you. By thinking about something over and over you and your imagination can come up the most elaborate and horrifying ways things can go wrong.
But if/when you finally take action and do what you wanted to do it may be a little anticlimactic.
Even if you fail and things don't work out the way you hoped for you may think to yourself:
Is this it?!
There are no monsters under your bed. And the monsters and disaster scenarios you construct in your mind rarely come into life.
Now, some situations may actually be quite scary and create a lot of pressure within.
The best way that I have found to deal with those situations is to reconnect with the present. When you are present you are just focused on what is happening right now. As Hemingway says, you are suspending the functioning of your imagination because your mind is no longer lost in possible future scenarios.
Check out Eckhart Tolle's books The Power of Now and A New Earth plus this article of mine for tips on how develop the habit of being able to step into the now. It can allow you to find a stillness and peace within despite calamity outside of you.
9. Don't judge.
"The writer's job is not to judge, but to seek to understand."
I think this is not just a great piece of advice for writers but for anyone really. Seeking to understand rather than judging is hard but is something that can help you and the people around you a great deal.
And this also goes back to the first tip, the one about listening. To be a good listener you must have the intent to understand the other person rather than judging him/her.
Instead of going into interactions or just life with a bunch of judgments that you apply on everything and everyone try acceptance. This is not easy if you are used to making judgments about everything.
And the thing is, by making a judgment you can often strengthen you ego. You get a small ego boost and you feel good for a while. But just like with caffeine this wears off pretty quickly and you soon need to judge again to feel good.
Accepting may not feel so appealing or "normal" but I have found that when I just accept things I feel a relief and stillness inside. You just feel good. I'm still working on this though.
Accepting someone's opinion doesn't mean that you surrender and let them "win". Nor does it mean that you need to just sit back and cannot take any action.
You can accept and still take action to change something if that is what you'd like to do. Accepting just means that you let that person think and feels as s/he likes without judging it. When you just accept and let your judgments rest it's easier to really understand each other and connect.