Today – on the 3rd day of the How to Start a Successful Website Email Course – I want to show you how to easily and step-by-step create your own WordPress website or blog.
It just takes 10-15 minutes to set up and I've negotiated with Bluehost so that all Positivity Blog readers can get their own website starting at only $2.95 per month.
Click here to start a WordPress website, and then just follow along with the step-by-step instructions below to go through this simple and quick process.
(NOTE: This free guide contains affiliate links. So I earn a commission if you decide to purchase via one of them.).
Why not go for free webhosting?
Before we get started with the practical part of this guide I'd like to address one of the most common questions I get about running a website:
Can't I just sign up for a free blog at for example Blogger?
I would not recommend that and here's why:
If you're on a free blogging platform then you may not be taken as seriously as you'd like by readers and companies (that may want buy from you, advertise on your website or hire you for a freelancing job).
You won't have full control over your website. This means, for example, that the free blogging platform provider can insert unwanted ads on your website and that you may not be able to monetize the website as you'd like by for example using various ads or affiliate programs.
So if you want make money from your website like I've done and make a side income – or in time a full-time income – you need to be self-hosted so you have full control over your content, design and brand and all options open when it comes to monetizing the website.
Step 1: Choose your webhosting.
If you're starting a website then I highly recommend Bluehost. Why?
2 million use it and it is recommended by the best. Bluehost powers over 2 million websites all over the world. And it is recommended by WordPress itself and and by some of the most respected and best bloggers there is like Problogger.com and Pat Flynn of Smart Passive Income.
One-click installer. A second important reason is that they have what's called a one-click installer. And that's exactly what it sounds like. You press a button and then you have a WordPress blog just like mine set up.
You'll be self-hosted. And that's a big benefit as I've already mentioned.
You get a free domain name for the first year. This is address to your website (mine's for example positivityblog.com).
A free SSL certificate for the first year. You can use this to add an extra layer of security to your website (this is something Google and many others are very serious about).
Free CDN. This will make your website fast no matter where in the world your readers are located.
24/7 hosting support. So you can ask questions and get help if you run into trouble.
Up to 70% off for Positivity Blog readers. So you can get started at only $2.95 per month.
Click here to open Bluehost in a new tab and to get the discount
And then just follow the simple step-by-step instructions below that'll guide you through the 10-15 minute set-up process.
Step 2: Buy your hosting package.
I use images from the Bluehost website during this step to make things easy to follow.
Click the green Get Started Now button in the new window you just opened.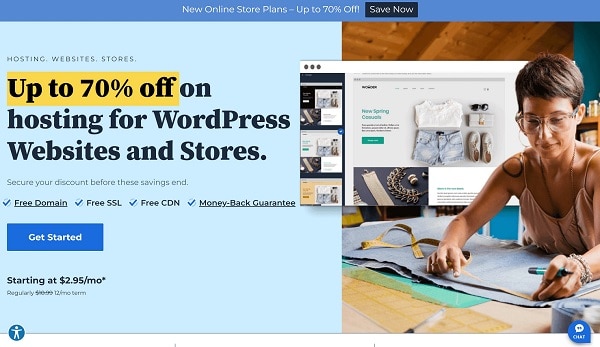 On the next page choose which one of the 4 webhosting plans you want.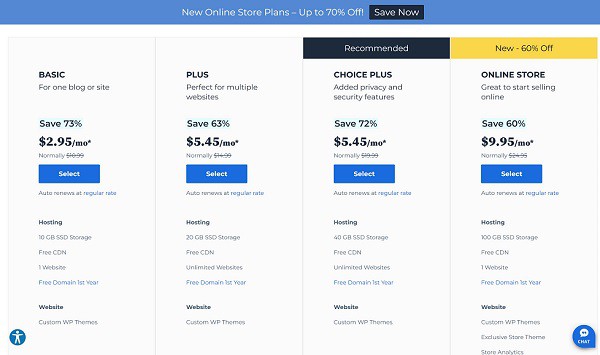 After you've done that you get to choose your own domain name on the page shown below (use the new domain section).
And on the following page you choose if you want 12 or 36 months of hosting and then simply type in your account and payment information.
Here you can also choose if you want any of the extras like domain privacy or site backup – I'd skip them but it's up to you – and then you put in your payment information and click submit.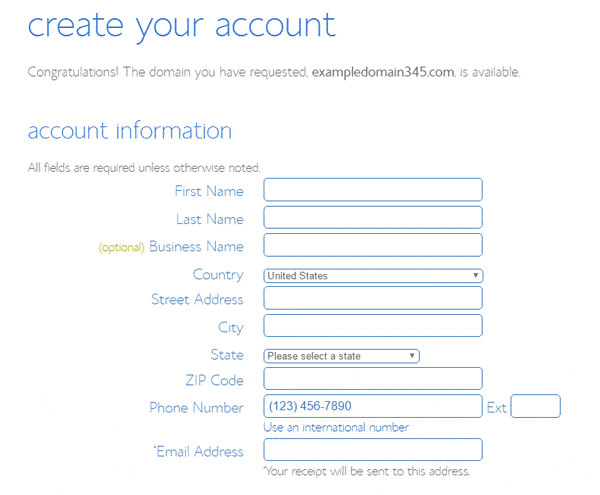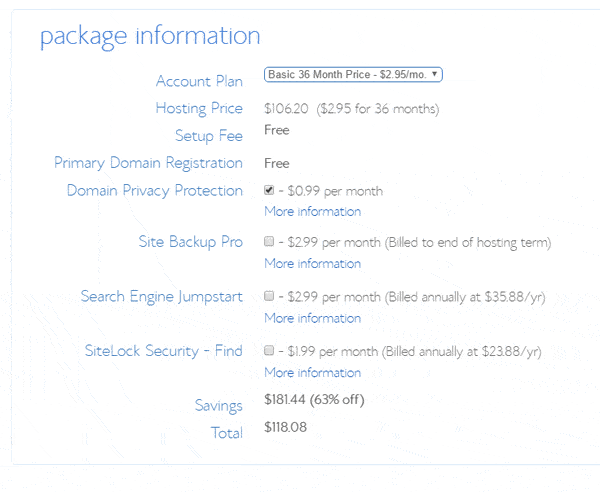 Step 3: Set up your WordPress website by using the one-click installer.
You've now purchased your domain name and hosting package and you have gotten access to what's called the cpanel (this is your control panel for your webhosting account).
As you log into the cpanel you may see a message that tells you that you can have Bluehost install the WordPress website for you.
But that comes at a cost and it's very easy to do it yourself for free.
Here's how:
First, find the blue Install WordPress icon on your cpanel page and click it. This is the one-click installer.
On the next page simply fill out the few options there. Be sure to set both a complicated Admin Username (do not use admin as a username) and Password. This will make your website a whole lot more secure against attacks. Write down the username and password on paper and keep it somewhere where you can easily find it when you need it.
Then click the Install button and your website/blog is created instantly.
You'll then get the website address for where you log into your blog. There you simply type in your admin username and your password and then you're ready to start writing and shaping your very own blog.
OK, so now you've set up your website. What's next?
3 Starting Steps to Take from Here…
Here's 3 things you can do today to improve the look and functionality with your brand new blog.
1. Choose the theme for your website.
The theme of the website or blog is simply how it looks. And there is a ton of free themes you can choose from to find the design that you want to for yourself and your website.
To find free themes to choose from and to try out simply be logged in to your WordPress website and then in the left column click Appearance and then the button that says Add New.
You will now be presented with many themes to choose from, both the latest ones that have been added and the most popular ones out there.
Take some time here and choose one you really like and think would fit your personality, idea or brand.
And don't worry about having to pick the perfect one, you can always go back whenever you like and pick another one with just a few click.
There are also many premium themes for WordPress that cost a bit of money but then you get extra functions and support to contact when you run into technical trouble.
I use a premium theme called Thesis for the Positivity Blog. A good alternative to Thesis that's used by many of the top blogs is the Genesis Framework.
2. Install a few helpful plugins that will make your life easier and improve your website.
Plugins are small programs that you install to your WordPress website. Many of them are free and some of them are premium plugins that usually cost a small amount of money.
To find and install a free and WordPress-approved plugin to your website first click Plugins in the left column on your website that you are logged into. And then click the button that says Add New.
You will be presented with plugins that are Featured at this time but you can also for example see what plugins are most popular in the world (these tend to be installed on millions of websites and are obviously very helpful for lots of people).
4 of my favorite plugins from the past 10+ years that I use on my website are these:
Akismet Anti-spam. This one puts the spam comments that people try to add to my blog posts right into the virtual trash bin. An absolute necessity because comment spam can quickly get out of hand.
W3 Total Cache. This plugin helps your website to load faster and to put less stress on your webhosting account. This is important because many use smart phones to browse the web today and if your website don't load quickly for them then they are likely to move on to another website. It's also an essential plugin if a piece of your content goes viral. If you don't have it installed at such a time then your website is likely to crash and most of all those potential new readers and fans will only see an error page. I've been in that situation and it's no fun.
Wordfence Security. This plugin protects my website from being hacked (such attempts are more common than you may think).
WP Forms Lite. An easy way to set up a contact form where readers can contact me and that keeps the spam emails far away from me.
3. Experiment a bit.
Experiment a bit with look of your website.
Try different colors and design options. Do you want to a colorful website or a minimalistic one? Do you want plenty of things in the sidebar or maybe not sidebar at all?
Get design inspiration from other websites. But don't steal anything.
Add a logo to the top of your website. I created mine by using Photoshop. But you can for example pay someone at Fiverr a couple of dollars to do it or use free graphics- and photo-editing software like GIMP (available both for Windows and Mac).