The very best thing I have done  in the area of personal development so far in 2009 is to get into better shape.
I did it with one of the most popular workout programs right now, Craig Ballantyne's Turbulence Training for Fatloss.
Over the last four months I have used the program and by doing so I have reaped these pretty awesome benefits:
I have lost 26 pounds. My belly is flat, I have lost quite a bit of body fat and 12 kilograms/26 pounds of weight since I last weighed myself in the very beginning of February (both I and friends/family were a bit shocked at how much I had lost, we were guessing that I maybe had lost half that weight over these months).
My day to day energy has gone way up (at least doubled).
I am stronger.
I am more productive and find it easier than ever to be and stay positive.
I may even look younger. One amusing side effect is that I also seem to look younger since I have had to show my driver's license a few times over the last weeks in places where the age limit was 25 years (I'm 29). Haven't had to do that in probably over three years.
Me – before and after
Here are a few photos of me. A bit of before and after I suppose.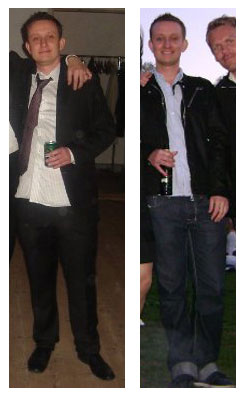 To the left is a picture of me at a wedding in October 2008 (I couldn't find an image that was closer to the start of my training, but I looked pretty much that way until February when I started with this program).
To the right is a picture of me from the beginning of May of 2009.
It's pretty obvious that I was chubbier and just looking wider back then compared to now.
What is Turbulence Training?
Turbulence Training is a program consisting of downloadable e-books, audio and social support through a online forum by fitness trainer and writer Craig Ballantyne. Craig has written for magazines like Men's Health, Men's Fitness and Oxygen and been coaching people in Turbulence Training for years. You can see a picture of him and his dog Bally at the start of this review.
In Turbulence Training you combine brief weight lifting workouts focused on compound exercises – movements where you use many muscle groups – with about 4-6 intervals of running, cycling or body weight circuits to burn a lot of fat while maintaining/increasing your muscle mass.
Each workout takes only about 45 intense minutes all in all – this includes warm-ups and a cool down – and you do three of those per week. You shake things up and switch workout programs every fourth week to keep your body guessing – or in turbulence – and this makes it easier to keep losing fat and to avoid plateaus in your progress.
Click here to read my full review of Turbulence Training
Or get your own copy of Turbulence Training right now

There are two versions of Turbulence Training, the basic one and the Deluxe version.
The basic version of Turbulence Training includes these e-books in PDF-format plus other bonuses:
The Turbulence Training Manual. 128 pages of advice on what to eat, general training and motivational advice and 9 specific workouts laid out for beginners, intermediate and advanced people in simple formats. You can print out your workouts and put a checkmark for every exercise and workout you have completed. This makes it easy to just follow along and track your workouts. A big part of the book are detailed descriptions with photos on how to do each exercise.
Two Workouts especially for abs: Amazing Lower Abs & Turbulence Training for Abs.
Bonuses for Men: The Busy Dads Workout, Turbulence Training for Mass and the DB-BW Fusion Workout.
Bonuses for Women: Fit Yummy Mummy by Holly Rigsby, Mastering the Fat Loss Mindset and Turbulence Training for Women.
The 4 Week Bodyweight Workout.
The Fusion Fat Loss Program (includes specific instructions for mealplans that Craig uses himself to get really lean).
The Nutrition Guide by Dr. Chris Mohr. A short and simple guide on what and how much to eat.
Tranformations Secrets. Interviews done with Craig and other fitness experts like Brad Pilon.
30-Day for Maximum Fat Loss Workout.
A one hour interview with Craig in mp3 format where he explains what Turbulence Training is and how it works.
1 month forum access. You get access to Craig's online forum where you can ask questions and get social support from other members. The forums are quite active and Craig is too as he seems to check out most discussions and answers any questions people have.
The Deluxe version of Turbulence Training includes all of the stuff above plus 9 months of workouts in these 5 body weight workout e-books:
The Turbulence Training 6-Month Bodyweight Manual.
The Bodyweight 500 Workout Challenge.
The Athletes 8-Week Training Program.
The Ultimate Advanced Bodyweight Workout.
The Bodyweight 1000 Fat Burning Challenge.
And Craig offers a 60 Day Money Back Guarantee with no questions asked.
So if you want to get in better shape over the summer and for life click here to get the basic version of Turbulence Training + the bonuses.
Or click here to get the Deluxe version with all the extra body weight workouts + all the bonuses.
60 Day Money Back Guarantee with no questions asked.
Note: The links to the Turbulence Training site in the review are affiliate links so I do get a cut from each sale. But I have gone through hundreds of personal development products over the last 6 years and only recommended a handful of them on this website. I would never recommend anything that I don't find insanely useful.

If you enjoyed this article, then get email updates (it's free)
Join over 59,426 awesome subscribers today and get practical personal development advice in your inbox.