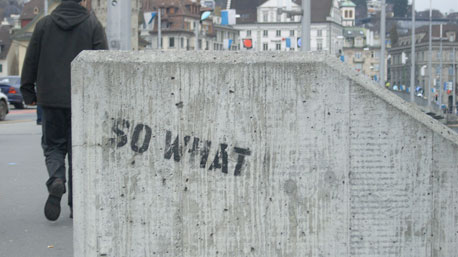 Image by PaoloMazzo (license).
Note: This is a guest post by Curtis Greve of Metreks
The other day I was talking with my good friend Pete and we were discussing the stock market, the job market and how there are a lot of people getting hurt and having trouble making ends meet, while watching their life's savings drop in value by half or worse. Earlier that day, I had actually thrown a pity party over my IRA and my wife had to sit me down and tell me not to obsess over things I can't control. 
I decided she was right, so to get my head straight; I called my good friend Pete. Pete is that guy that always makes you feel better when you talk to him.  This time, it was no different.  When I called, just the way he answered the phone made me feel better.  "Hello my friend.  How is my good buddy doing today?"  You got to love caller ID.
We chit chatted about family, friends, business and the economy.  As we were talking, Pete said something that really stuck with me.
"People ask me 'what if you lose your job?' and I keep saying the same thing.  So what! If I lose this job, I'll find something better.  I may miss a house payment; my kids might have to take out a student loan to go to college, but so what.  What is the worst thing that can realistically happen?  I'll end up better in the long run and I'll be stronger for it." 
You have to understand a few things about Pete.  He is the most upbeat, positive, 'can do' guy on the planet.  He came from a large family and his dad was a blue collar worker.  Pete decided that he was going to go to college, even though nobody from his family had ever gone to school past their senior year in high school.  He figured he would just get a football scholarship, which he did, to Purdue.
He did not just 'go to Purdue.' He met and married the best looking girl on campus.  He was the starting center for the Boiler Makers for four years.  His senior year, his team was ranked 5th in the nation and he played in big bowl game.  Oh yeah, he was named to Purdue's "All Century Team" years later.
He loved football and had a dream of playing pro, after he graduated.  Sure enough, he got drafted by the Green Bay Packers but got cut during his first training camp.  That is where the story ends for many big time college athletes.   Pete was different.  What was Pete's response?  So what, I'll go get a job and be very successful. 
Pete went to work for a real estate company and after a couple of years he decided he would start his own company.  He figured if the company went under, so what.  It didn't go under.  In fact it was a big success.  Soon his company was a leading industrial real estate firm in Indianapolis.  Next he was approached by the world's largest industrial real estate firm and asked to join them as their global head of sales.
Pete's thought it would be a great chance to gain valuable experience so he talked to his family and his partners and made the leap, and, if it didn't work out, so what. Today, he is still there, making more money than he ever thought possible and in every way "living the dream." He has the family, the house, the job, interest in his old business, pretty much everything he thought he could have.
So what is Pete's secret?  Certainly hard work and effort is a big part of it but just as important, he always has a positive attitude.  He never wastes time looking back and thinking about what he should have done.  He never doubts his own abilities.  He lives a "can do life." 
The other thing about Pete is that his positivity is infectious.  He shares it.  This is the same as other things in life.  The more positive and uplifting he is to his friends, the more positive and uplifting his friends are to him.  What goes around comes around.  Instead of participating in a world that is self defeating, he helps create a world that is uplifting.
Once when talking to a buddy who was having marriage issues, his friend said "You know, my tank is about empty.  I don't think I can take much more of this."  Pete's response was "Why don't you fill your tank back up?  You can either put a whole in your tank or fill it up.  It is your choice.  Every morning when you wake up, just decide 'Today, my tank is full."  That was seven years ago and my wife and I are having the time of our lives.
'So what' have I learned from Pete?
Know that you will be better off in the long run, no matter what happens.
Realize that you don't have time to look back because you are enjoying today and building tomorrow.
Be positive and uplifting to those around you and they will return the favor.
Every morning, decide to have a full tank.
I hope this helps fill up your tank.  Today is an opportunity for you to make a difference in somebody's life and it is a precious part of the journey called success.  Make the most of it. Pete will.
Curtis Greve is the CEO of Metreks, a consulting company that specializes in improving relationships between leaders and their teams.  In addition, Curtis is a speaker and is consider a leader in the field labor relations and supply chain management.  He and his family reside in Pittsburgh where he performs his most important job of being a father and husband.
If you enjoyed this article, please share it on Stumbleupon, vote for it on Digg or bookmark it on del.icio.us. Thanks a lot! =)