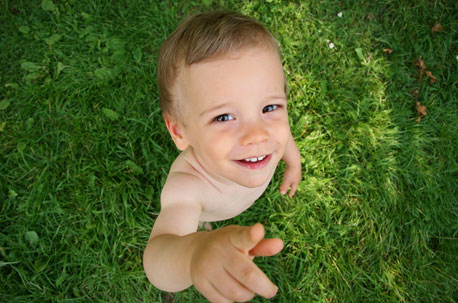 Image by Libertinus (license).
Note: This is a guest post by Brianna K. Grant of Girl Who Loves to Run.
I love my children. My husband loves our children. We also love when they are sleeping. When our children are in dreamland, we have a chance to catch up on one another's day, watch a little television, read or even make plans for our "someday" vacation.
Around 7PM we do a telepathic high-five across the playroom, celebrating the countdown for bedtime. If we're still standing, we can surely survive another 60 minutes. Those last few minutes are really nice ones anyhow: bath time, light snack, reading books, tooth brushing, prayers and a quick snuggle with each child.
It is a nice, consistent, fluid routine. Sounds easy, right? It has been relatively smooth, up until this last week when our 22 month-old, the one my husband recently nicknamed "The Fireball", decided that she will only fall asleep if one of us is in bed with her. Oh, and if she wakes in the middle of the night, she comes to find us – three times per night, on average. Translation: three out of the four of us in the house haven't had an uninterrupted night of sleep in at least a week. Not pretty.
On our pediatrician's suggestion, we're getting The Fireball accustom to falling asleep without us. This currently involves 30 minutes of repeated walks down the hall to get her back in bed. No eye contact and no talking are allowed, though I sometimes plant a quick kiss on the top of her head. I keep looking for Super Nanny cameras taping my every move, wondering if I'm truly doing it right or if the kiss is a sign of weakness and I'm in need of some professional intervention.
As I prepared for this transition period yesterday I thought back on a similar bedtime frustration when my son, "The Tornado", was her age. It was a tough time filled with crying, temper tantrums, thrashing of arms and legs and dozens of trips back and forth down the hallway to return him to his bed.
The method eventually worked and he learned to fall asleep with out us beside him, but it left us feeling downtrodden. Thankfully The Tornado is now 4 and is nearly asleep before his head even hits the pillow.
I decided that this round of bedtime challenge with The Fireball can go one of two ways:
1) It can leave me feeling exhausted and rotten like we did the first time.
2) It can leave me feeling like a strong parent who is helping her child develop an important skill.
Yes, re-establishing positive sleep habits is hard work either way and bottom line will be the same (a child who can fall asleep independently and self-adjust in the middle of the night), but the second option is filled with positive light and encouragement. I'm working toward that one.
So here are the things I've done the last two nights that help me stay calm and leave me feeling hopeful:
I use the time to focus on my posture and breathe deeply. When I get going with my day I sometimes forget these two important things. Focusing on improving my physical self takes the pressure off my stressed mental self, thus easing the situation a bit.
I make a mental list of all the positive things The Fireball did that day. Focusing on her strengths and heart-warming personality helps me see how important it is for her to get a proper rest so she can tackle the next day with as much gusto. A full day leaves small children just as tired as adults. This refocus also helps me take her meltdowns less personally.
I stretch my tense muscles while I await her search for me. Neck rolls, eagle arms and other asanas from my yoga practice are things I should do everyday, anyhow. This is a great opportunity for healthy multi-tasking.
I think about what my wise mother-in-law told me when I was pregnant with The Tornado: This time is but a drop in the bucket of life. It will pass quickly and become but one of millions of memories you make. Sure, this bump in our bedtime road is very real and very jarring for NOW, but before we know it, we won't even be able to make it out in our rearview mirror.
I count the times I made it to the bathroom over the course of the day. Not how many times I assisted small children in the bathroom – how many times I was able to go without any company! This mental tally is a comical distraction AND a wake-up call that I should drink more water (which would also help my body filter stress, right?).
Whether or not you have children, I'm sure you can apply the things I'm trying in SOME realm of your life. I nearly laughed out loud when I was thinking how surviving an exhausted, crying child might be likened to enduring a business meeting during which the boss goes on and on and on . . . and the employees are desperately trying to survive the meeting so they can have energy to get on with life when they're released.
Maybe yoga asanas aren't always appropriate in the middle of a meeting, as eagle arms are a dead give-away that your mind is someplace else (though my husband claims it is acceptable to do this pose at the coffee machine if you are okay with getting a few strange looks).
Consider that the other suggestions may just make the difference between becoming "that whiny guy" at the office and "that gal who can turn any situation into a positive one". For now my office is at home, but I like when The Tornado asks, "Why are you smiling, Mom?" much better than when he hints at my moodiness as only he can, "Mom, it looks like you could use some alone time."
Brianna K. Grant is an award-winning author and stay-at-home mom based outside of Seattle, Washington who blogs about running and life-balance at Girl Who Loves to Run. You can read another article of hers, about adjusting for better life-balance, by clicking here.
If you enjoyed this article, please share it on Stumbleupon, vote for it on Digg or bookmark it on del.icio.us. Thanks a lot! =)