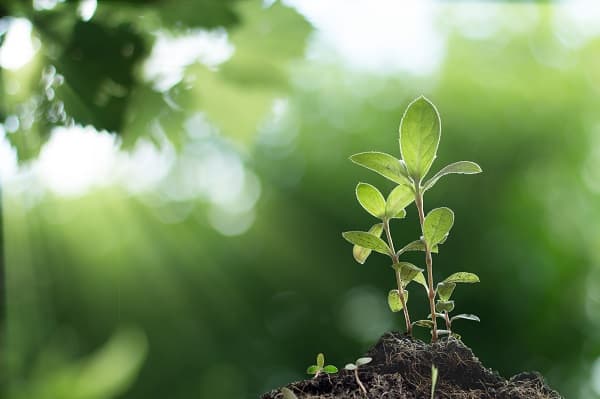 Today I'd like to share a collection of quotes about new beginnings.
This one's for you that wants to make a change in your life.
Get a fresh start.
Let go of something and move on to something better and more fulfilling.
No matter if that's at work, in your business, in a relationship or in some other important area of your life.
Plus, in the second part of the post I've included 5 of my favorite steps that have helped me the most to make a new beginnings in my own life.
I hope you'll find something here that will both inspire you and help you practically to make a change and get that new beginning you need.
You may also find this collection of confidence quotes and this one filled with quotes on having a growth mindset helpful for the process of moving forward.
Inspiring Quotes About New Beginnings
"Celebrate endings—for they precede new beginnings."
Jonathan Lockwood Huie
"Every day is a new beginning. Treat it that way. Stay away from what might have been, and look at what can be."
Marsha Petrie Sue
"Nothing in the universe can stop you from letting go and starting over."
Guy Finley
"If one dream should fall and break into a thousand pieces, never be afraid to pick one of those pieces up and begin again."
Flavia Weedn
"Nothing is predestined. The obstacles of your past can become the gateways that lead to new beginnings."
Ralph Blum
"To dare is to lose one's footing momentarily. To not dare is to lose oneself."
Soren Kierkegaard
"No matter how hard the past is, you can always begin again."
Buddha
"Forgiveness says you are given another chance to make a new beginning."
Desmond Tutu
"When one door closes, another opens; but we often look so long and so regretfully upon the closed door that we do not see the one which has opened for us."
Alexander Graham Bell
"Do not be embarrassed by your failures, learn from them and start again."
Richard Branson
"The first step towards getting somewhere is to decide you're not going to stay where you are."
J.P. Morgan
"Every day is a chance to begin again. Don't focus on the failures of yesterday, start today with positive thoughts and expectations."
Catherine Pulsifer
"It is only when we truly know and understand that we have a limited time on earth – and that we have no way of knowing when our time is up – that we will begin to live each day to the fullest, as if it was the only one we had."
Elizabeth Kubler-Ross
"There are things that we never want to let go of, people we never want to leave behind. But keep in mind that letting go isn't the end of the world, it's the beginning of a new life."
Unknown
"The heaviness of being successful was replaced by the lightness of being a beginner again, less sure about everything. It freed me to enter one of the most creative periods of my life."
Steve Jobs
"Take the first step in faith. You don't have to see the whole staircase, just take the first step."
Martin Luther King, Jr.
"And now let us welcome the new year, full of things that never were."
Rainer Maria Rilke
"The chief beauty about time is that you cannot waste it in advance. The next year, the next day, the next hour are lying ready for you, as perfect, as unspoiled, as if you had never wasted or misapplied a single moment in all your life. You can turn over a new leaf every hour if you choose."
Arnold Bennett
"It happens to everyone as they grow up. You find out who you are and what you want, and then you realize that people you've known forever don't see things the way you do. So you keep the wonderful memories, but find yourself moving on."
Nicholas Sparks
"Don't wait until everything is just right. It will never be perfect. There will always be challenges, obstacles and less than perfect conditions. So what. Get started now. With each step you take, you will grow stronger and stronger, more and more skilled, more and more self-confident and more and more successful."
Mark Victor Hansen
"You may have a fresh start any moment you choose, for this thing that we call 'failure' is not the falling down, but the staying down."
Mary Pickford
"A very wise man once told me that you can't look back – you just have to put the past behind you, and find something better in your future."
Jodi Picoult
"There will come a time when you believe everything is finished; that will be the beginning."
Louis L'Amour
"Some of us think holding on makes us strong, but sometimes it is letting go."
Hermann Hesse
"Isn't it nice to think that tomorrow is a new day with no mistakes in it yet?"
L.M. Montgomery
"Never underestimate the power you have to take your life in a new direction."
Germany Kent
"Start where you are. Use what you have. Do what you can."
Arthur Ashe
"Yesterday is not ours to recover, but tomorrow is ours to win or lose."
Lyndon B. Johnson
"The best years of your life are the ones in which you decide your problems are your own. You do not blame them on your mother, the ecology, or the president. You realize that you control your own destiny."
Albert Ellis
"Perhaps that is where our choice lies—in determining how we will meet the inevitable end of things, and how we will greet each new beginning."
Elana K. Arnold
"The beginning is the most important part of the work."
Plato
"Do not wait until the conditions are perfect to begin. Beginning makes the conditions perfect."
Alan Cohen
"If you are not willing to risk the usual, you will have to settle for the ordinary."
Jim Rohn
"You are never too old to set another goal or to dream a new dream."
C.S. Lewis
"Why do you go away? So that you can come back. So that you can see the place you came from with new eyes and extra colors. And the people there see you differently, too. Coming back to where you started is not the same as never leaving."
Terry Pratchett
"Let go of certainty. The opposite isn't uncertainty. It's openness, curiosity and a willingness to embrace paradox, rather than choose up sides. The ultimate challenge is to accept ourselves exactly as we are, but never stop trying to learn and grow."
Tony Schwartz
"Challenges are gifts that force us to search for a new center of gravity. Don't fight them. Just find a new way to stand."
Oprah
"When we go back in to the past and rake up all the troubles we've had, we end up reeling and staggering through life. Stability and peace of mind come by living in the moment."
Pam W. Vredevelt
"Failure is the opportunity to begin again more intelligently."'
Henry Ford
"Your past does not equal your future."
Anthony Robbins
"Laughter gives us distance. It allows us to step back from an event, deal with it and then move on."
Bob Newhart
"Today expect something good to happen to you no matter what occurred yesterday. Realize the past no longer holds you captive. It can only continue to hurt you if you hold on to it. Let the past go. A simply abundant world awaits."
Sarah Ban Breathnach
"It is never too late to be what you might have been."
George Eliot
"Life moves forward. The old leaves wither, die and fall away, and the new growth extends forward into the light."
Bryant McGill
"Every new beginning comes from some other beginning's end."
Seneca
"Let go. Why do you cling to pain? There is nothing you can do about the wrongs of yesterday. It is not yours to judge. Why hold on to the very thing which keeps you from hope and love?"
Leo Buscaglia
"Every moment is a fresh beginning."
T.S. Eliot
"You can clutch the past so tightly to your chest that it leaves your arms too full to embrace the present."
Jan Glidewell
"You have to let go of who you were to become who you will be."
Candace Bushnell
"The most difficult aspect of moving on is accepting that the other person already did."
Faraaz Kazi
"Let go of your attachment to being right, and suddenly your mind is more open. You're able to benefit from the unique viewpoints of others, without being crippled by your own judgment."
Ralph Marston
"No matter how hard the past is, you can always begin again."
Jack Kornfield
"We can't be afraid of change. You may feel very secure in the pond that you are in, but if you never venture out of it, you will never know that there is such a thing as an ocean, a sea. Holding onto something that is good for you now, may be the very reason why you don't have something better."
C. JoyBell C.
"People have a hard time letting go of their suffering. Out of a fear of the unknown, they prefer suffering that is familiar."
Thich Nhat Hanh
"It's hard to be clear about who you are when you are carrying around a bunch of baggage from the past. I've learned to let go and move more quickly into the next place."
Angelina Jolie
"Be willing to be a beginner every single morning."
Meister Eckhart
"Even the greatest was once a beginner. Don't be afraid to take that first step."
Muhammad Ali
"The way to get started is to quit talking and begin doing."
Walt Disney
"If you don't like the road you're walking, start paving another one."
Dolly Parton
"All great deeds and all great thoughts have a ridiculous beginning. Great works are often born on a street corner or in a restaurant's revolving door."
Albert Camus
"We are meant to keep focused for new life, for new beginnings, for new experiences, and to use our abilities to move beyond all those things that may serve as excuses to confine us to the now."
Byron Pulsifer
"I discovered that a fresh start is a process. A fresh start is a journey – a journey that requires a plan."
Vivian Jokotade
"If I must start somewhere, right here and now is the best place imaginable."
Richelle E. Goodrich
"If all you can do is crawl, start crawling."
Rumi
"You can learn new things at any time in your life if you're willing to be a beginner. If you actually learn to like being a beginner, the whole world opens up to you."
Barabra Sher
"Don't live the same year 75 times and call it a life."
Robin Sharma
"Asking is the beginning of receiving. Make sure you don't go to the ocean with a teaspoon. At least take a bucket so the kids won't laugh at you."
Jim Rohn
"The distance is nothing; it's only the first step that is difficult."
Marquise du Deffand
"It's humbling to start fresh. It takes a lot of courage. But it can be reinvigorating. You just have to put your ego on a shelf & tell it to be quiet."
Jennifer Ritchie Payette
"Never allow waiting to become a habit. Live your dreams and take risks. Life is happening now."
Paulo Coelho
"Breathe. Let go. And remind yourself that this very moment is the only one you know you have for sure."
Oprah Winfrey
"Making the beginning is one third of the work."
Irish Proverb
"Life is about change, sometimes it's painful, sometimes it's beautiful, but most of the time it's both."
Kristin Kreuk
"Keep on beginning and failing. Each time you fail, start all over again, and you will grow stronger until you have accomplished a purpose – not the one you began with perhaps, but one you'll be glad to remember."
Anne Sullivan
"I have always been delighted at the prospect of a new day, a fresh try, one more start, with perhaps a bit of magic waiting somewhere behind the morning."
J. B. Priestly
"Although no one can go back and make a brand new start, anyone can start from now and make a brand new ending."
Carl Bard
"You can't be that kid standing at the top of the water slide, overthinking it. You have to go down the chute."
Tina Fey
"A year from now you may wish you had started today."
Karen Lamb
"20 years from now you will be more disappointed by the things that you didn't do than by the ones you did do. So throw off the bowlines. Sail away from the safe harbor. Catch the trade winds in your sails. Explore. Dream. Discover."
Mark Twain
"A journey of a thousand miles begins with a single step."
Lao Tzu
Inspiring Quotes About Endings, Starting Over and New Beginnings
"The secret to a rich life is to have more beginnings than endings."
Dave Weinbaum
"New beginnings are often disguised as painful endings."
Lao Tzu
"What we call the beginning is often the end. And to make an end is to make a beginning. The end is where we start from."
T.S. Eliot
"The doors we open and close each day decide the lives we live."
Flora Whittemore
"From the end spring new beginnings."
Pliny the Elder
"It's never too late to become who you want to be. I hope you live a life that you're proud of, and if you find that you're not, I hope you have the strength to start over."
F. Scott Fitzgerald
"Don't let the lessons, the experiences of the past, dampen your enthusiasm for beginnings. Just because it's been hard doesn't mean it will always be that difficult."
Melody Beattie
"To greet a lovely morning, we must leave the night behind."
Tarang Sinha
"New beginnings are starting daily through every new morning opening new wonders and mercies of healings and blessings of opportunity to nurture the soul."
Rosalee Ervin
"Arriving at one goal is the starting point to another."
John Dewey
"The bad news is that most people give up; they settle for second best; they don't start over; they stay stuck. Please don't allow that to be you."
Doug Fields
"Let's forget the baggages of the past and make a new beginning."
Shahbaz Sharif
"The secret to change is to focus all of your energy, not on fighting the old, but on building the new."
Socrates
"There is always an opportunity to start again and again, if the old ways are not working last year, look for better ways of doing it in the new year and start again afresh."
Bamigboye Olurotimi
"Traveling is not just seeing the new; it is also leaving behind. Not just opening doors; also closing them behind you, never to return. But the place you have left forever is always there for you to see whenever you shut your eyes."
Jan Myrdal
"Dreams are renewable. No matter what our age or condition, there are still untapped possibilities within us and new beauty waiting to be born."
Dale Turner
"When faced with a large project, remember you move a mountain one stone at a time."
Catherine Pulsifer
"It isn't always a change of scenery needed to make life better. Sometimes it simply requires opening your eyes."
Richelle E. Goodrich
"After you've done a thing the same way for two years, look it over carefully. After five years, look at it with suspicion. And after ten years, throw it away and start all over."
Alfred Edward Perlman
"We grow up with such an idealistic view on how our life should be; love, friendships, a career or even the place we will live ~ only to age and realise none of it is what you expected and reality is a little disheartening, when you've reached that realisation; you have learnt the gift of all, any new beginning can start now and if you want anything bad enough you'll find the courage to pursue it with all you have. The past doesn't have to be the future, stop making it so."
Nikki Rowe
"Discontent is the first necessity of progress."
Thomas Edison
"The greatest of all capabilities of a human being is to become born again."
J.R. Rim
"Everything begins at the beginning, and quite often the beginning begins when you shift your mind in a new direction."
Louie Herron
"What you're supposed to do when you don't like a thing is change it. If you can't change it, change the way you think about it. Don't complain."
Maya Angelou
"Retirement is not just walking away from work; it is also walking toward something new."
Sara Yogev
"Your life does not get better by chance. It gets better by change."
Jim Rohn
"New Year's eve is like every other night; there is no pause in the march of the universe, no breathless moment of silence among created things that the passage of another twelve months may be noted; and yet no man has quite the same thoughts this evening that come with the coming of darkness on other nights"
Hamilton Wright Mabie
"All great beginnings start in the dark, when the moon greets you to a new day at midnight."
Shannon L. Alder
"Don't be afraid if things seem difficult in the beginning. That's only the initial impression. The important thing is not to retreat; you have to master yourself."
Olga Korbut
Quotes About New Love and New Relationship Beginnings
"The draft you feel after your heart has been broken is simply the essential airing out of your soul to help establish fresh, new beginnings."
Michelle C. Ustaszeski
"You can kiss your family and friends good-bye and put miles between you, but at the same time you carry them with you in your heart, your mind, your stomach, because you do not just live in a world but a world lives in you."
Frederick Buechner
"If you spend your time hoping someone will suffer the consequences for what they did to your heart, then you're allowing them to hurt you a second time in your mind."
Shannon L. Alder
"We must be willing to get rid of the life we've planned, so as to have the life that is waiting for us. The old skin has to be shed before the new one can come."
Joseph Campbell
"Letting there be room for not knowing is the most important thing of all. When there's a big disappointment, we don't know if that's the end of the story. It may just be the beginning of a great adventure. Life is like that. We don't know anything. We call something bad; we call it good. But really we just don't know."
Pema Chödrön
"You must be strong enough to know that love will come to you when you are ready. You must be strong enough to know when to say goodbye, and know that letting go is not weak."
Marisa Donnelly
"Getting over a painful experience is much like crossing monkey bars. You have to let go at some point in order to move forward."
C. S. Lewis
"The beginning of love is to let those we love be perfectly themselves, and not to twist them to fit our own image. Otherwise we love only the reflection of ourselves we find in them."
Thomas Merton
"When we think we have been hurt by someone in the past, we build up defenses to protect ourselves from being hurt in the future. So the fearful past causes a fearful future and the past and future become one. We cannot love when we feel fear…. When we release the fearful past and forgive everyone, we will experience total love and oneness with all."
Gerald G. Jampolsky
"Starting over is an acceptance of a past we can't change, an unrelenting conviction that the future can be different, and the stubborn wisdom to use the past to make the future what the past was not."
Craig D. Lounsbrough
"All discarded lovers should be given a second chance, but with somebody else."
Mae West
My 5 Favorite Steps for Making a New Beginning
Step 1: First accept what is to more easily let go.
The first part of making a new beginning for yourself will often be to let go of what has been to be able to make room for the new thing.
And one key thing that has helped me to let go is to accept what is and has happened.
Why?
Well, if you still struggle in your mind against what has already happened then you feed that memory or situation with more energy.
You might, for example, make what someone said or did even bigger and even more powerful in your head than it may have actually been in reality.
By accepting that what happened – for instance that you were rejected after a date or a job interview – and letting that in instead of trying to push it away I've found that often something odd happens after a while.
The memory or the issue becomes less powerful in my mind. I don't feel as upset or sad about it as I did before. I become less attached emotionally to it.
And so it most often becomes easier for me to let go and for me to move on with my life.
Step 2: Forgive (for your own sake and to help yourself).
If someone wrongs you then that will likely cause you pain – sometimes a bit, sometimes a lot – for a while.
But after some time has passed you have a choice.
You can refuse to let go of what happened. And instead let it interfere with your life, your relationships and replay what happened over and over in your mind.
I have done that many times. And often for far too long.
Or you can choose to forgive.
Now, first accepting what has happened as mentioned in the previous step can make it easier to forgive.
Another thing that has helped me is to not focus on forgiving because "that's something I'm supposed to do".
I have found that I get more motivated to forgive for my own sake. For my own health and well-being and to live a happier life.
I like this quote and reminder from Catherine Ponder to help me to make a decision to forgive:
"When you hold resentment toward another, you are bound to that person or condition by an emotional link that is stronger than steel. Forgiveness is the only way to dissolve that link and get free."
Now, just because I forgive doesn't mean that I have to stay passive as I move forward.
I may for example choose to forgive but to spend less time or no time with someone who has hurt me.
Step 3: Keep your focus on what you CAN influence in your life.
So the first two tips in this post have hopefully helped you to start letting go of the past and what happened to be able to make room for your new beginning.
At this point it is important to keep you focus steadily on what you can control and influence in your life to not lapse back into replaying old memories or getting lost in daydreaming and procrastination.
So ask yourself:
What CAN I focus my time and energy on to actually make positive progress and a new beginning in my life?
And what is one small step I can take today to get started with that?
If you like, write those two questions down somewhere where you cannot avoid seeing them every day. This will help you to keep yourself on track as you move into the new situation and start in your life.
Step 4: Don't make the new beginning something huge and vague in your head.
Sometimes we make doing something or getting a fresh start into something big and vague in our minds.
And so it becomes easy to get scared of creating the new beginning you want and you instead start procrastinating.
Two things that have helped me with that – besides asking the two questions in step #3 – are to:
Get knowledge from people who have already gone where you want to go.
This will defuse vague fears about what could happen if you started making the change you want.
Because learning from others about what obstacles they faced and how their own journey unfolded will give you a more realistic road map for your own journey than the thoughts may be bouncing around in your head and that are creating mountains out of molehills.
So talk to people who have gone where you want to go or find their advice in books, on websites, in podcasts or on Youtube.
Ask yourself: Honestly, what is realistically the worst that could happen?
First, take a couple of deep breaths to calm your mind down a bit.
Then ask yourself this question.
And you'll likely realize that the worst thing that could realistically happen is not that bad.
Yes, it may sting or be tough for a bit. But it is something you can handle. And it is a situation you can find something to do about if that worst scenario were to actually happen.
The clarity you get from asking yourself this question has been so helpful in my own life and allowed me to calm down, find a path forward in my mind and take action to make my dream or goal into reality.
Step 5: Find encouragement and help from other people.
As you get started with your journey, check if someone you know wants to tag along. Perhaps you have a friend that also wants to start working out at the gym.
And if you can't find someone that can participate so directly in your new beginning then be sure to keep feeding your mind with positive encouragement as you move forward.
You can find such encouragement and support from friends and family. Or from sources a bit further away in the world such as books, Youtube-videos, movies, podcasts or websites.