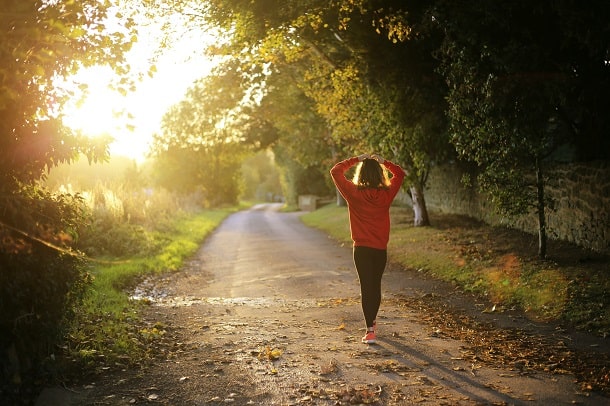 Monday has arrived.
A new week is upon us. Maybe you're ready to go. Or perhaps a bit unmotivated and tired right now.
Either way, today's post contains the most powerful Monday blessings and quotes to help you to get a motivated, positive and great start to your week.
I hope this post will help you to focus, renew your energy and rekindle an optimistic outlook for the next 7 days and beyond.
And if you want even more inspiration to make this a blessed week then check out this post with Wednesday blessings and also this one filled with Thursday blessings.
Inspirational Monday Blessings
"Good morning, Monday morning blessings to you my friend! May your week be filled with kindness, positive energy and plenty of steps taken towards your goals and dreams."
"Live your life today with hope, joy and laughter to make it a happy and blessed Monday for you and the people around you."
"You are my Monday morning blessing and I am so happy to have you in my life!"
"When you arise in the morning think of what a privilege it is to be alive, to think, to enjoy, to love…"
Marcus Aurelius
"A happy Monday naturally leads to a happy week ahead. So focus first on making this a good morning. Then an excellent and blessed day. And finally on having a great week and a wonderful time as best you can throughout these 7 days."
"Monday blessings are often simple things like hanging out with friends and family, having some fun and enjoying nature or a good meal. Not just achieving your goals or reaching your dreams."
"Shoot for the moon. Even if you miss, you'll land among the stars."
Brian Littrell
Positive Monday Blessings
"Good morning! Monday blessings to you and your loved ones. Have a wonderful day!"
"Positive thoughts are contagious. So feed your mind with them by having positive conversations early in the day or by listening to podcasts or audio books. Then spread that positivity to the people you met to be their Monday morning blessing."
"Your attitude, not your aptitude, will determine your altitude."
Zig Ziglar
"Have fun today! It will make your Monday lighter and do the same for the people in your life."
"Great love and compassion for yourself and for others will make this into a happy Monday morning and a blessed week for all."
"Just one small positive thought in the morning can change your whole day."
Dalai Lama
"Monday blessings don't have to be big blessings. Perhaps just a smile here and there, someone giving a helping hand and a laughter or two."
"I believe in you and your powers to shape your life as you want it to be. Have a beautiful Monday morning and may God richly bless you this week."
Rich Andrews
"Good morning, Monday blessings to you! And may God bless you and support you as you support the people around you."
Frank Singer
Insightful Monday Blessings
"Be miserable. Or motivate yourself. Whatever has to be done, it's always your choice."
Wayne Dyer
"Each morning when I open my eyes I say to myself: I, not events, have the power to make me happy or unhappy today. I can choose which it shall be. Yesterday is dead, tomorrow hasn't arrived yet. I have just one day, today, and I'm going to be happy in it."
Groucho Marx
"A ship is always safe at shore but that is not what it's built for."
Albert Einstein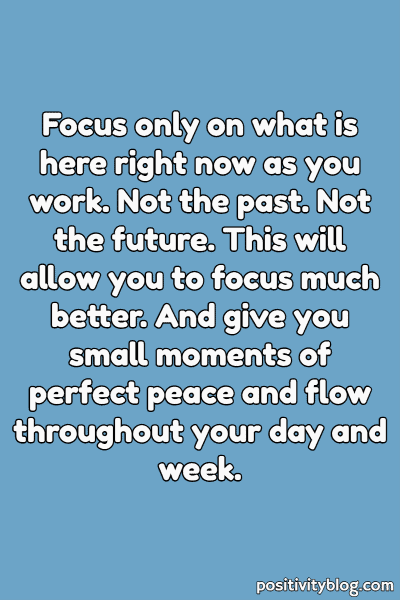 "Focus only on what is here right now as you work. Not the past. Not the future. This will allow you to focus much better. And give you small moments of perfect peace and flow throughout your day and week."
"If you don't design your own life plan, chances are you'll fall into someone else's plan. And guess what they have planned for you? Not much."
Jim Rohn
"You make this a blessed Monday and a blessed week by focusing on kindness first and foremost. It's that simple."
"Good morning, my friend! Today think about what you can learn from the past week and don't let today's stumbles or setbacks drag you down. Keep moving forward to make this a great week."
Motivating Monday Blessings
"One simple way to make this day into a happy Monday and this whole week a joyful one is to take small steps each day towards your biggest goal or dream."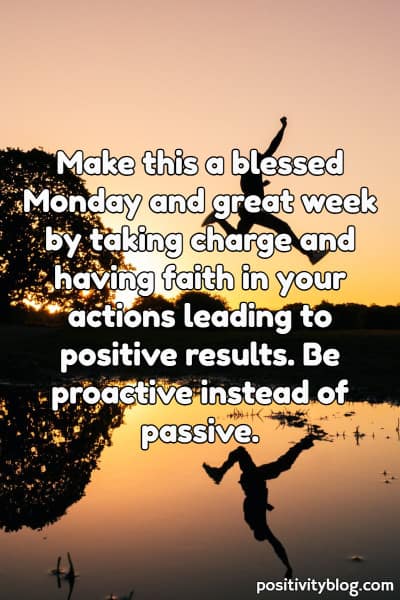 "Make this a blessed Monday and great week by taking charge and having faith in your actions leading to positive results. Be proactive instead of passive."
"You set the tone for the whole day and week by what you do this Monday morning. So focus on what you want rippling through this week like for example a positive outlook and gratitude."
"Be kind to all you meet today and God's favor will hopefully be upon your life."
John Standberry
"If you want one good idea then the easiest way to get it is to have many ideas and then prune them down into the best one."
"Attack Monday in a focused and positive way and you'll not only get what matters done today but also set yourself up for a great and mighty blessed week ahead."
"Good morning, Monday morning blessings to you and let's have a motivated and focused day and a great week!"
"I was thinking one day and I realized that if I just had somebody behind me all the way to motivate me I could make a big difference. Nobody came along like that so I just became that person for myself."
Unknown
"Success means doing the best we can with what we have. Success is the doing, not the getting; in the trying, not the triumph. Success is a personal standard, reaching for the highest that is in us, becoming all that we can be."
Zig Ziglar
You may also like these motivational Monday quotes.
Short Monday Blessings
"God bless you and your family on this happy Monday morning. May your week ahead be filled with joy and peace."
Lisa Green
"Have the wisdom today to ignore unnecessary negativity both from others and yourself to make this a blessed day."
"May the Lord bring you many Monday morning blessings and help you accept and work through your challenges."
Anna Dawe
"You, my family, are my Monday morning blessing and the most important reason that I arise in the morning and work so hard."
"Think of many things; do one."
Portuguese proverbs
"God bless you and protect you on this happy Monday and new week."
Charles Cairne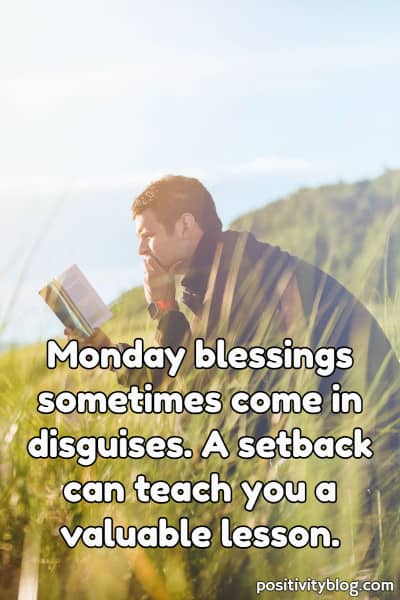 "Monday blessings sometimes come in disguises. A setback can teach you a valuable lesson."
"I know you want to get plenty of things done today but don't forget to rest and reflect to work smarter too."
"Blessed Monday morning to you my dear friend! Know that if you got the Monday blues you can always call me."
If you liked these Monday blessings then comment down below, save the page for when you really need a pick-me-up or share these blessings with a friend or perhaps a family member on Facebook or Instagram or via email.
Want even more motivation and blessings this upcoming weekend? Check out this post with Saturday blessings and images plus this recent one with Sunday blessings.