In the first part of this post I'd like to share a collection of quotes about mistakes.
And then in second part of the post I'll add 5 of my favorite tips that have helped me many times to handle a mistake in a positive and constructive way.
Because sometimes making a mistake is a natural part of a life well-lived. It's OK to make them (despite what you may have heard from some people).
And because it is so important to have a healthy perspective on mistakes so that you can use them to your advantage and bounce back from a setback (and regain your self-confidence).
I hope you'll find something motivating and helpful here.
And if you need something more when you're in a tough situation then have a look at this post filled with quotes on self care.
Inspiring Quotes about Mistakes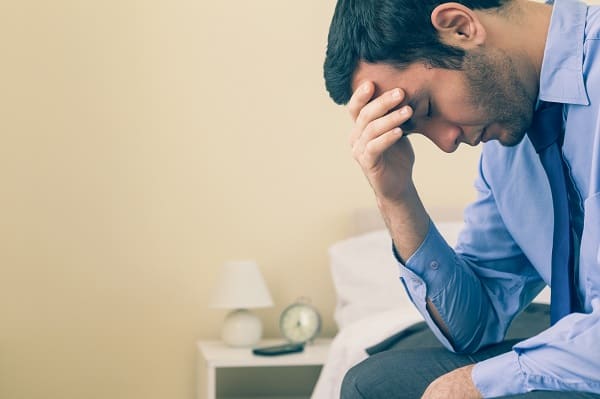 "Anyone who has never made a mistake has never tried anything new."
Albert Einstein
"You make mistakes. Mistakes don't make you."
Maxwell Maltz
"The only real mistake is the one from which we learn nothing."
Henry Ford
"The greatest mistake you can make in life is to be continually fearing you will make one."
Elbert Hubbard
"No matter how many mistakes you make or how slow you progress, you're still way ahead of everyone who isn't trying."
Tony Robbins
"All men make mistakes, but a good man yields when he knows his course is wrong, and repairs the evil. The only crime is pride."
Sophocles
"A man must be big enough to admit his mistakes, smart enough to profit from them, and strong enough to correct them."
John C. Maxwell
"You build on failure. You use it as a stepping stone. Close the door on the past. You don't try to forget the mistakes, but you don't dwell on it. You don't let it have any of your energy, or any of your time, or any of your space."
Johnny Cash
"What do you first do when you learn to swim? You make mistakes, do you not? And what happens? You make other mistakes, and when you have made all the mistakes you possibly can without drowning – and some of them many times over – what do you find? That you can swim?
Well – life is just the same as learning to swim!
Do not be afraid of making mistakes, for there is no other way of learning how to live!"
Alfred Adler
"A life spent making mistakes is not only more honorable but more useful than a life spent in doing nothing."
George Bernard Shaw
"It is a mistake to look too far ahead. Only one link of the chain of destiny can be handled at a time."
Winston Churchill
"Experience is simply the name we give our mistakes"
Oscar Wilde
"Any action is often better than no action, especially if you have been stuck in an unhappy situation for a long time. If it is a mistake, at least you learn something, in which case it's no longer a mistake. If you remain stuck, you learn nothing."
Eckhart Tolle
"The proactive approach to a mistake is to acknowledge it instantly, correct and learn from it."
Stephen Covey
"Thinking too much just brings it back to me, me, me—but thanking takes my eyes off myself and my mistakes and puts them on others, on things bigger than myself. I can't stand here very long without being humbled at how small I am and amazed at how big and beautiful our world is."
Elizabeth Musser
"The only man who never makes a mistake is the man who never does anything."
Theodore Roosevelt
"Freedom is not worth having if it does not include the freedom to make mistakes."
Mahatma Gandhi
"In the real world, the smartest people are people who make mistakes and learn. In school, the smartest people don't make mistakes."
Robert T. Kiyosaki
"You must learn from your past mistakes, but not lean on your past successes."
Denis Waitley
"Success seems to be connected with action. Successful people keep moving. They make mistakes, but they don't quit."
Conrad Hilton
"We all make mistakes, have struggles, and even regret things in our past. But you are not your mistakes, you are here now with the power to shape your day and your future."
Steve Maraboli
"Well, we all make mistakes, dear, so just put it behind you. We should regret our mistakes and learn from them, but never carry them forward into the future with us."
L.M. Montgomery
"It ain't as bad as you think. It will look better in the morning."
Colin Powell
"A common mistake that people make when trying to design something completely foolproof is to underestimate the ingenuity of complete fools."
Douglas Adams
"Success does not consist in never making mistakes but in never making the same one a second time."
George Bernard Shaw
"You can't really be strong until you can see a funny side to things."
Ken Kesey
"When you make a mistake, there are only three things you should ever do about it: admit it, learn from it, and don't repeat it."
Paul Bear Bryant
"Sometimes you don't realize your own strength until you come face to face with your greatest weakness."
Susan Gale
"Don't confuse poor decision making with destiny. Own your mistakes. It's OK; we all make them. Learn from them so they can empower you!"
Steve Maraboli
"Recognise your own shortcomings and be prepared to learn quickly, including from your mistakes. If you don't jump into the deep end at some point, you will never learn to swim."
George Ilian
"Anyone can give up, it's the easiest thing in the world to do. But to hold it together when everyone else would understand if you fell apart, that's true strength."
Unknown
"It takes guts and humility to admit mistakes. Admitting we're wrong is courage, not weakness."
Roy T. Bennett
"The man with a toothache thinks everyone happy whose teeth are sound. The poverty-stricken man makes the same mistake about the rich man."
George Bernard Shaw
Wise Mistake Quotes
"Life is very interesting. In the end, some of your greatest pains become your greatest strengths."
Drew Barrymore
"If you want to grow, you need to get over any fear you have of making mistakes."
John C. Maxwell
"Anyone can hide. Facing up to things, working through them, that's what makes you strong."
Sarah Dessen
"Learn from other people's mistakes."
Tai Lopez
"The price of inaction is far greater than the cost of making a mistake."
Meister Eckhart
"Good judgment comes from experience, and experience comes from bad judgment."
Rita Mae Brown
"All the adversity I've had in my life, all my troubles and obstacles, have strengthened me… You may not realize it when it happens, but a kick in the teeth may be the best thing in the world for you."
Walt Disney
"All men make mistakes, but only wise men learn from their mistakes."
Winston Churchill
"Do not be embarrassed by your failures, learn from them and start again."
Richard Branson
"A man may fail many times but he isn't a failure until he begins to blame somebody else."
John Burroughs
"Honesty and maturity are two key factors that separate those people who can successfully change their lives and those who are destined to continually repeat the same mistakes over and over again."
Sarah Devnil
"Learn from other people's mistakes."
Tai Lopez
"Mistakes are the portals of discovery."
James Joyce
"Part of being a man is learning to take responsibility for your successes and for your failures. You can't go blaming others or being jealous. Seeing somebody else's success as your failure is a cancerous way to live."
Kevin Bacon
"It's not how we make mistakes, but how we correct them that defines us."
Rachel Wolchin
"I've come to believe that all my past failure and frustrations were actually laying the foundation for the understandings that have created the new level of living I now enjoy."
Anthony Robbins
"Fall seven times, stand up eight."
Chinese Proverb
"It is impossible to live without failing at something, unless you live so cautiously that you might as well not have lived at all, in which case you have failed by default."
J.K. Rowling
"Things work out best for those who make the best of how things work out."
John Wooden
"If you so choose, every mistake can lead to greater understanding and effectiveness. If you so choose, every frustration can help you to be more patient and more persistent."
Ralph Marston
"There are no mistakes or failures, only lessons."
Denis Waitley
"Your best teacher is your last mistake."
Ralph Nader
"One of the disadvantages of wine is that it makes a man mistake words for thoughts."
Samuel Johnson
"Most great people have attained their greatest success one step beyond their greatest failure."
Napoleon Hill
"Life is not easy for any of us. But what of that? We must have perseverance and, above all, confidence in ourselves. We must believe that we are gifted for something, and that this thing, at whatever cost, must be attained."
Marie Curie
"Inside of a ring or out, ain't nothing wrong with going down. It's staying down that's wrong."
Muhammad Ali
"Don't think in the morning. That's a big mistake that people make. They wake up in the morning and they start thinking. Don't think. Just execute the plan. The plan is the alarm clock goes off, you get up, you go work out. Get some."
Jocko Willink
"Show me someone who has done something worthwhile, and I'll show you someone who has overcome adversity."
Lou Holtz
"Strength does not come from winning. Your struggles develop your strengths. When you go through hardships and decide not to surrender, that is strength."
Arnold Schwarzenegger
"It is not the critic who counts; not the man who points out how the strong man stumbles, or where the doer of deeds could have done them better.
The credit belongs to the man who is actually in the arena, whose face is marred by dust and sweat and blood, who strives valiantly; who errs and comes short again and again; because there is not effort without error and shortcomings; but who does actually strive to do the deed; who knows the great enthusiasm, the great devotion, who spends himself in a worthy cause, who at the best knows in the end the triumph of high achievement and who at the worst, if he fails, at least he fails while daring greatly.
So that his place shall never be with those cold and timid souls who know neither victory nor defeat."
Theodore Roosevelt
"Make glorious amazing mistakes. Make mistakes nobody has ever made before. Do not freeze, do not stop, do not worry. Whatever you are scared of doing, do it."
Neil Gaiman
"There is no sense in punishing your future for the mistakes of your past. Forgive yourself, grow from it, and then let it go."
Melanie Koulouris
"Don't brood. Get on with living and loving. You don't have forever."
Leo Buscaglia
"Even a mistake may turn out to be the one thing necessary to a worthwhile achievement."
Henry Ford
"Don't let the mistakes and disappointments of the past control and direct your future."
Zig Ziglar
"We all make them, the difference is what we do after we make the mistake, how we see the mistake – a learning experience or a failure."
Catherine Pulsifer
"The mistakes we regret the most are the ones we were too scared to make."
Ollie Slaney
"Mistakes are, after all, the foundations of truth, and if a man does not know what a thing is, it is at least an increase in knowledge if he knows what it is not. "
Carl G. Jung
"Don't be ashamed by your mistakes, they only prove that you try hard and never give up."
Riley Czarkowski
"To make no mistakes is not in the power of man; but from their errors and mistakes the wise and good learn wisdom for the future."
Plutarch
"It's not a person's mistakes which define them – it's the way they make amends."
Freya North
"Forget your mistakes but remember what they taught you."
Vannetta Chapman
"Admitting to a mistake means refusing to use other people as scape-goats to avoid responsibility but rather courageously owning up to every single one of them."
T. Whitmore
"We make our discoveries through our mistakes: we watch one another's success: and where there is freedom to experiment there is hope to improve."
Sir Arthur Thomas
"Embrace being perfectly imperfect. Learn from your mistakes and forgive yourself, you'll be happier."
Roy T. Bennett
"An expert is a person who has made all the mistakes that can be made in a very narrow field."
Niels Bohr
"A mistake repeated more than once is a decision."
Paulo Coelho
"What type of language do you use with yourself when you notice some flaw or make a mistake – do you insult yourself, or do you take a more kind and understanding tone?"
Kristin Neff
"And a step backward, after making a wrong turn, is a step in the right direction."
Kurt Vonnegut
"My greatest hope regarding the future rests on the mistakes I've made in the past, for those are the most effective things I've got to build with."
Craig D. Lounsbrough
"Always make new mistakes."
Esther Dyson
"Many people make the mistake of basing the quality of their own successes on other people's standards and expectations. You'll achieve far more personal satisfaction trying to impress yourself than you will trying to impress someone else."
Kory Livingstone
"Let all your regrets and mistakes become your sails and your rudders, and not your anchors"
Sotero M Lopez II
"Mistakes are the usual bridge between inexperience and wisdom."
Phyllis Theroux
"A man must learn from his own mistakes, to be what he wishes to be."
Lailah Gifty Akita
"The greatest mistake you can make is to believe that you have to do everything on your own power. Do not assume that asking for help or guidance is to admit defeat. In fact, it is just the opposite. To ask for help or to accept help to accomplish a goal is to also ingrain into your own spirit that you will help others over obstacles or hurdles as well."
Catherine Pulsifer
"There are no mistakes in life, only lessons. There is no such thing as a negative experience, only opportunities to grow, learn and advance along the road of self-mastery. From struggle comes strength. Even pain can be a wonderful teacher."
Robin Sharma
Mistake Quotes About Relationships and Love
"At an early age I learned that people make mistakes, and you have to decide if their mistakes are bigger than your love for them."
Angie Thomas
"Honesty is the fastest way to prevent a mistake from turning into a failure."
James Altucher
"If you spend your time hoping someone will suffer the consequences for what they did to your heart, then you're allowing them to hurt you a second time in your mind."
Shannon L. Alder
"A mistake made with good in your heart is still a mistake, but it is one for which you must forgive yourself."
Linda Sue Park
"You make mistakes. You try to learn from them, and when you don't, it hurts even more."
Aretha Franklin
"Girls you've gotta know when it's time to turn the page."
Tori Amos
"One who makes no mistakes makes nothing."
Giacomo Casanova
Funny Mistake Quotes
"Smart people learn from their mistakes. But the real sharp ones learn from the mistakes of others."
Brandon Mull
"I have learned from my mistakes, and I am sure I can repeat them exactly."
Peter Cook
"Laughing at our mistakes can lengthen our own life. Laughing at someone else's can shorten it."
Cullen Hightower
"Mistakes are a part of being human. Precious life lessons that can only be learned the hard way. Unless it's a fatal mistake, which, at least, others can learn from."
Al Franken
"To make a mistake is human, but to blame it on someone else, that's even more human."
Unknown
"Do not make the mistake of treating your dogs like humans or they will treat you like dogs."
Martha Scott
"I was born to make mistakes, not to fake perfection."
Drake
"A failure is like fertilizer; it stinks to be sure, but it makes things grow faster in the future."
Denis Waitley
"I never made a mistake in my life. I thought I did once, but I was wrong."
Charles M. Schulz
"I have learned all kinds of things from my many mistakes. The one thing I never learn is to stop making them."
Joe Abercrombie
My 5 Favorite Tips for Handling a Mistake in a Positive Way
Everyone makes mistakes and has setbacks. But how you handle such a situation can make all the difference.
So in this section I'd like to share 5 of my favorite tips that have helped me many times to get something good out of a mistake and to not get dragged down into a funk of negativity.
1. Reminder: You are not your mistake or a failure.
When you have made a mistake it is easy to start thinking that this is how things will be. That you will keep messing things up or that you are a failure in life (or at least in this area of your life).
If that happens then remind yourself:
Just because you screwed something up today doesn't mean that you will do that tomorrow or next week.
This situation will not last forever if you keep on taking action and move forward, if you learn from what happened and if you don't label yourself as a failure or as one who only makes mistakes.
If you look at the situation this way – from a levelheaded and optimistic perspective – you'll see that this is just a temporary thing in your life and not something that is permanent.
2. Learn from what happened.
Be constructive about your mistake or setback and learn from what happened to avoid making the same mistake again and to do better the next time you're in the same situation or as you simply move forward and continue on your journey.
Looking at things this way will also help you to look at mistakes and bumps in the road as helpful feedback rather than something that will make the sky fall.
Ask yourself questions like these to help yourself to improve:
What is one thing I can learn from this situation?
What is one thing that I can do differently the next time?
And how can I adjust my course to likely avoid making the same mistake again?
Take your time with these questions and try to answer them clear-headedly and honestly.
It may not always be fun to hear the answers but that only lasts for a short while. And this way is in the long run a lot better than getting lost in denial, procrastination or in a negative spiral of destructive thoughts.
3. Own and start fixing the mistake.
If you are to blame for what happened then accept that. Own it. Don't make excuses in your own head or to others that may have been affected.
But don't wallow in it either or make things look worse than they actually are.
Instead, focus on starting to fix the mistake and on improving the situation at hand.
Avoid feeling overwhelmed by this by writing out a small plan with action-steps for what you will do. And then start working on the first step in that plan until you get that one done.
This will make you feel better again and people may still be a bit angry but will respect that you have owned the mistake and that you are now moving forward to try to fix it.
4. Let it out into the light.
If you have trouble with the negative thoughts and emotions or with coming up with a small plan for what to do about your mistake then let it all out.
Talk the situation over with someone close to you.
Just venting as he or she listens can help a lot to alleviate the negative feelings and thoughts and to let go of them.
And venting while another person listens can also be helpful to sort out the situation out loud and to start putting together what went wrong and what you can do to fix or improve upon the situation.
Or you can ask for advice from your friend or family member and they can encourage you and share what has worked in similar situations in their own life.
5. Find inspiration and uplifting support from your world.
Letting it out and having a grounding and uplifting conversation as described above can work very well.
Another thing that has often helped me is to learn from people who have gone where I want to go.
Many of them have made similar missteps.
So read in books, blogs, listen to podcasts or watch Youtube-videos to learn how they handled obstacles, mistakes and low-points before or during their successes.
This – or sometimes just reading or listening to anything for 20-30 minutes that inspires me – will usually refuel my optimism and motivation and make it easier to start working again to repair the mistake and improve my current situation.