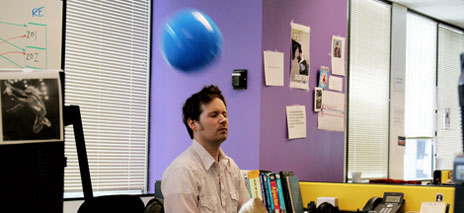 Image by Rev Dan Catt (license).
So you have a date. Or an important meeting coming up. Or a presentation to do in front of your class.
You can't really sit still. You fidget with a hand or a foot. Your palms are perhaps starting become a little moist. You don't feel so good. You feel nervous.
What do you do?
What can you do in advance to prevent nervousness? And what can you do to lessen or remove the nervousness that may rise within you just before or during an event?
Below are a few tips. Some you can use today. Some you can incorporate into your life over a longer time-span.
You may want try a combination of a few of these tips. For example, if you are feeling a lot of nervous energy then don't go for the positive visualization right away. It may not have that much of an effect if you're nervous and your mind is already throwing various negative visualizations in your face.
Instead, first take some belly breaths to calm yourself to down and to center yourself in the now rather than some negative vision of a possible future. Then, when your breathing is nice, deep and calm visualize how well an upcoming meeting or presentation will turn out.
Be prepared.
Obviously. If you have a presentation then study your notes and what you are about to say carefully before stepping up on stage. If you have an important meeting, do your homework so you know what will or may come up in meeting. If you have a date, perhaps try to think of a few interesting topics/questions to bring up in case the conversational flow hits an awkward silence. If you have a job interview, think about what they may ask you and figure out some good answers.
Doing this carefully and meticulously can remove a lot of nervousness. It may not always be fun. But being well prepared can be helpful not only to remove nervousness but also to ace the presentation or get the job.
Ask yourself: What is the worst that could happen?
What is really the worst that could happen? How will it affect you in the long run? In many cases you'll find that the answer boils down to: not really that much. It's easy to get too wrapped up in what is about to happen and magnify the event and possible consequences in your mind until it seems like it's a matter of life and death. It seldom is. Asking a few simple questions can put things into a healthier perspective and calm you down.
Take 30 belly breaths.
Belly breathing is a wonderful way to vanquish negative feelings and visualizations and return to the present moment. Just taking a few dozen belly breaths can change nervous and shallow breathing into a calm and strong alternative. It's quite remarkable how quickly this can change how you feel. Here's how you go about it:
Sit in a relaxing position with your legs apart.

Put your hands on your stomach. Using your stomach breathe in slowly through your nose. If you are doing it right your stomach will expand and you'll feel it with your hands.

Breathe out slowly through your nose and do it with some force so you feel your stomach pull slightly inwards towards your spine.

Breathe in and out 30 times. Take slow and deep breaths.

After you have taken 30 breaths and focused on counting them you should not only feel more relaxed and centred. Your body will also be able to continue breathing in this manner without you focusing on it. And that's it. Continue with your normal day.
Taking some deeper breaths with your belly can also be useful if you start to feel nervous or unfocused during your interview/presentation/meeting.
Visualize in a positive way.
Much of our time is spent habitually visualizing what may go wrong in a future situation. This can, of course, create a lot of nervousness. It can also give you the results you imagined – or feared – through self-fulfilling prophecies. If you think you'll fail, then you are making it a whole lot harder for yourself to succeed.
Visualizing in a positive way is definitely a more useful and pleasant way to spend some time with your imagination. Now, you may think that visualizing this way is just unrealistic. But visualizing in a negative way is just as unrealistic. Either way, you are imagining what may happen in a possible future scenario. Doing it in a negative way may just feel more realistic because that's what people around you are doing or because it's what you've been doing every day for the last few years.
How you imagine things will unfold and what will happen can change a lot about how you behave, what you say and how you feel in this future situation. And that can have a big effect on how things actually go.
Here are some practical instructions for when you, for instance, have an upcoming meeting:
Visualize how great the events will unfold – see and hear it – and also how great will you feel at this meeting.
See yourself smiling, being positive, open and having a great time. See the excellent outcome in your mind. Then release by visualizing that it has already happened, that the meeting is over with the desired result. This is surprisingly effective and will get you into a good and relaxed mood before even stepping into the first, second or twentieth meeting.
The above solutions are the quicker ones. The suggestions below are the ones you need more time to incorporate. It may take weeks, months or even years. Over time you can gradually make these ideas stronger parts of your life. And they can make you feel less and less nervous in any situation.
Practise, practise, practise.
The more you practise, take action and put yourself in situations that may make you nervous the more confident you become. You have been there before, you know pretty much what will happen. So you feel more and more comfortable and less nervous.
Realize that people don't care that much about what you do.
One big source of nervousness is focusing too much on what people will think of you. And thinking that their criticism is always about you.
But people don't think that much about what you do. You keep much of your attention from day to day on your problems, challenges and triumphs. And that's exactly what the next guy/girl is doing too.
In general, people keep much of their attention on their own challenges and problems. And their criticism is often about something negative in their life rather than about something you did. So don't worry too much about it. Realizing that what you do isn't that important to other people can be a bit disappointing. But also liberating.
Now, it's very easy to fall back into a behaviour where you feel needy and wonder what people may think about you and what you do. But by working on this you can, step by step and over time, become less and less worried or bothered by what people might think. This allows you more inner freedom to do and try what you want since you're not feeling trapped in box of other people's opinions.
Stay in the present moment.
This one ties into the one about belly breathing. When you take those deep, powerful breaths and focus on doing that your mind seems to silence. Your projections of what may happen at the meeting or job interview die out. Nervousness comes from these negative projections of what may happen sometime in the future. Or from what happened in the past, perhaps from the last time you had a meeting or an interview. When you instead focus your attention on what's happening now, now and… now the nervousness dies out too.
Another way to stay in – or return to – the present moment is to just pay attention to what is happening right now. Just focus on the scene and the sounds right in front of you. Don't think about the reports you have finish before 5 o'clock, the meeting tomorrow or what you want for dinner. Just pay attention to the present moment and nothing else for a few moments. Make it a habit and try to expand the time you can spend in the present moment before your thoughts drift away again.
Staying the present moment can be very beneficial if you want to lessen negative feelings and thought in your life. I highly recommend checking out books like The Power of Now or A New Earth by Eckhart Tolle to deepen your understanding and get better explanations of something that can be so simple and powerful but also so difficult to describe.
If you like this article, please bookmark it on del.icio.us or give it a thumb up in Stumbleupon. Thanks a lot! =)