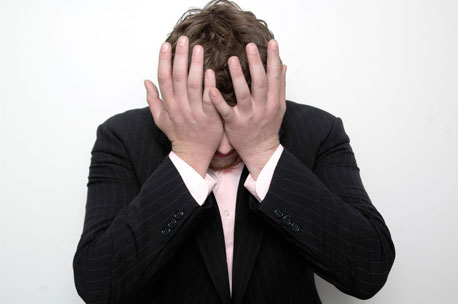 Image by Zach Klein (license).
Post by Henrik Edberg. Follow me on Twitter.
"Inspiration exists, but it has to find us working."
Pablo Picasso
"Don't think. Thinking is the enemy of creativity. It's self-conscious, and anything self-conscious is lousy. You can't try to do things. You simply must do things."
Ray Bradbury
Here's a short and sweet post for today. I have been blogging for almost two and a half years now. I haven't really run into writer's block so far. How? Here are few tips that help me out. I hope you'll find them useful.
Always carry a pen and piece of paper. Obvious tip, but if you always do this then you'll capture a lot of ideas before they fly away again. I also have a pen and paper beside my bed since I often get ideas just before I go to sleep. Figure out if you have any such creative places and make sure to have some idea gathering materials close by.
Write down every idea. Even if it may seem stupid at the time. You never know, it might be useful in some way later on.
Brainstorm. You can often get a good stream of ideas going if you just get started. You may not feel like you have any ideas at all. But as soon as you sit down and start to brainstorm to reach for instance 20 ideas on some topic your mind starts to spit out idea after idea. It's a bit weird, but after the first idea pop out you often experience a sort of ketchup effect.
To get a good idea, have a lot of ideas. Then choose one of those ideas. I have Word-documents for every idea that I want write about for this blog with a brief outline or some central words that I have typed down quickly. I never sit down to blog without available ideas to pull up and choose from. This is very helpful if you want to blog regularly without creating a lot of anxiety within about what to write about.
Expose your mind to new ideas. Read a variety of stuff, not just the stuff you are used to. Talk to people about all kinds of things. Follow blogs and Twittering people that aren't your usual cup of tea.
Expose your mind to stillness. If you overload your mind with too much knowledge and ideas you may not only start using it as way to avoid taking action. It can in my experience hinder creativity. Sometimes it's good to stop exposing your mind to a lot of new information. This can help you digest the impressions you have picked up recently and combine a few of them into cool and exciting ideas. Also, as you may have noticed, ideas often comes to us in the shower or other odd places where the subconscious has time to work while you focus on not getting shampoo into your eyes. So again, don't forget to always keep a pen and a piece of paper close by.
Keep your mind open. You never know when you will get ideas. Oftentimes I can get them from something random someone says in a conversation. Sometime it may come from a short part of book or movie. I came up with the idea for this article while watching an episode of Andy Richter Controls the Universe – a very funny sit-com – where the main character runs into writer's block. There are always ideas floating around out there. You just have to focus on what you want – tune in your reticular activation system – to see them and then use your pen and paper to catch them.
Just start writing even if your feel uninspired or blocked. It's just like going to the gym. You don't always feel like going before your go. But a short while after you've started you are glad you got going. I find that I can often start writing and then inspiration catches up with me along the way.
What is your best tip for avoiding writer's block? Or just to get a really good idea?
If you enjoyed this article, please share it on Stumbleupon or vote for it on Digg. Thanks a lot! =P