"The purpose of life, after all, is to live it, to taste experience to the utmost, to reach out eagerly and without fear for newer and richer experiences."
Eleanor Roosevelt was the wife of U.S president Franklin D. Roosevelt. But she was no ordinary First Lady.
In many ways she became a pioneer.
She was the first woman to speak in front of a national convention. The first woman to have a syndicated column and to earn money through lectures. After the death of her husband, she didn't disappear into obscurity.
Instead she continued her work and she became an American spokesman in the U.N. There she played an important part in creating The Universal Declaration of Human Rights. In a survey by Gallup she is one of the most widely admired people of the last century.
But – perhaps not so surprisingly – her start in life was one filled with insecurity and shyness. Her mother didn't think Eleanor was pretty and neither did Eleanor.
Things didn't take a complete turn for the better in the early years with Franklin as she discovered he was having an affair with her secretary. Eleanor hit bottom. But this was also the turning point where she started to consider who she wanted to be and started on a new, more independent path in life.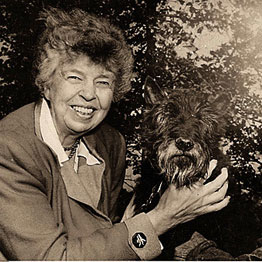 She became more politically active and connected with the people while traveling throughout the U.S. She focused on improving civil rights and helping the women, the poor and the working-class. She wanted to close gaps in society and give people more equality.
Making such an interesting journey – both outward through the physical world and inward through the mental world – of course teaches you a thing or two. Here are just a few Eleanor's awesome thoughts on life.
"You gain strength, courage and confidence by every experience in which you really stop to look fear in the face. You are able to say to yourself, 'I have lived through this horror. I can take the next thing that comes along.' You must do the thing you think you cannot do."
It becomes easier to be bold when you learn to use fear to your advantage. Every time you face a fear you gain the 3 important qualities above. And the next thing that comes along will be easier to handle.


And if you have to handle a big fear, whatever it may be, and later realise you actually survived it, many things in life you may have feared previously seems to shrink. Those fears become smaller. They might even disappear.

And you might think to yourself that what you thought was a fear before wasn't that much to be afraid of at all. All is relative. And every triumph, problem, fear and experience becomes bigger or smaller depending to what you compare it to.

For more thoughts on how to handle fear have a look at 5 Life-Changing Keys to Overcoming Your Fear and Top 24 Tips for Making Your Self Confidence Soar. And while we are on the subject of facing your fears, it might also be helpful to remember the words of Eleanor's husband, Franklin:

"We have nothing to fear but fear itself."
"Do what you feel in your heart to be right – for you'll be criticized anyway. You'll be damned if you do, and damned if you don't."
Whatever you do, there will always be some people who criticize you. You can´t avoid it. Well, perhaps if you never do or say anything. But how much fun would that be? And would that even help? Probably not, because then they'll just complain about you never saying anything.

Criticism doesn't always come from what you do. It's quite often about the other guy/gal. Maybe s/he needs to vent jealousy, bitterness, anger or frustration. Or feel a need to show that his/her point of view or belief is the right one. Maybe money is tight or the cat was run over last week. So whatever you do, people will always be able to find things in your life to criticise. There is not much you can do about that. So you might as well do what you feel is right for you.
"No one can make you feel inferior without your consent."
I've slowly come to realise how powerful this thought is. And how useful it can be when you actually start to use it. But coming around to this thought, to accept that you really control so much in life can be a bit counter-intuitive and difficult to grasp. It can take some time.

But you choose and you control how you react and feel. So even though what anyone says to you, it's up to you if you want feel inferior or down about it. Achieving this amount of control over yourself takes some training of course and isn't something you master in a weekend. But as you realise that this thought is true and applying it to your life a world of possibilities starts to slowly open up.

But how do you let criticism and negative thoughts not get to you? One way is to not care too much about what other people think (regardless if it´s positive or negative thoughts). You can read more about that in How to Handle Criticism and Get Something Good Out of It.
"I think, at a child's birth, if a mother could ask a fairy godmother to endow it with the most useful gift, that gift should be curiosity."
This is a great thought. Curiosity is so useful but also an often forgotten quality. We are curious like crazy when we are young. But that curiosity often seems to dissipate as we grow older.

Maybe school makes it harder to follow your curiosity as we for many years spend out days in a place with more order and many rules. A place where we have to move as a group and reach the same goals at the same time as the rest of the class. Maybe it's because society doesn't encourage curiosity that much. Or maybe it's because as we grow older we don't value and work at our curiosity as much as we perhaps could.

Curiosity is a great driving force. As long as you are curious fears and obstacles become smaller. You feel like you just have to keep moving forward and keep exploring. To more often adopt a mental frame of curiosity is one of the better ways to see and explore the world, to move yourself toward new experiences and to have great fun at the same time.

It's a bit like being a kid all over again.
"It is better to light one small candle than to curse the darkness."
To keep complaining about your circumstances, what happened to you and how mistreated you were is – after the initial experience and reaction – pretty pointless. Not because you shouldn´t complain and it's bad behaviour in some way. But because it's not useful for you.

People don't like complainers so if you go on and on they might stop listening. Or start to avoid you. Complaining won't solve your problems either. What has happened has happened.

Complaining isn't that useful for you. It's much better to put whatever happened behind you, to make a plan and take action today to improve today and tomorrow. This might sound corny.

But you choose what you want to do.

You can choose to continue complaining and become addicted to the feeling and experience of it. And get a strange satisfaction out of complaining.

Or you can choose to use your time and energy for something better, more fun and exhilarating than complaining. For more on developing a positive outlook read Take The Positivity Challenge! and Top 5 Tips for Living a More Positive Life.
"Since you get more joy out of giving joy to others, you should put a good deal of thought into the happiness that you are able to give."
This may sound like an empty cliché but it surely works. One of the best ways to become happier is simply to make others happier.

When you make someone else happy you can sense, see, feel and hear it. And that happy feeling flows back to you. And then, if you'd like, you can boost you own ego by thinking something like: "Wow, I really made him/her happy!".

And since the Law of Reciprocity is strong there is another upside. People will feel like giving back to you. And so the two – or more – of you keep building an upward spiral of positivity and happiness.

So be smart and bold, take more trips down a road less travelled than it should be. Focus on giving happiness instead of zeroing in on receiving it. It's better for everyone.
If you liked this article, please give it a thumb up

in Stumbleupon or bookmark it at Del.icio.us. Thanks!

If you enjoyed this article, then get email updates (it's free)
Join over 59,426 awesome subscribers today and get practical advice in your inbox.