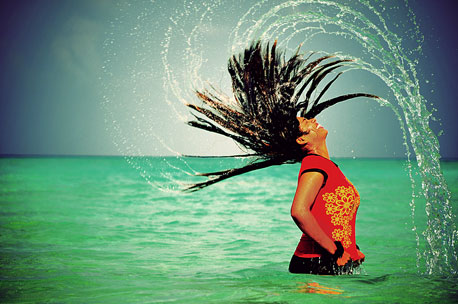 Image by notsogoodphotography (license).
"Between stimulus and response is the freedom to choose."
Viktor Frankl
If something happens in your everyday life that could trigger negative emotions and behaviour on your part, what do you do? If you feel lazy or uninspired or angry and hateful, what do you do?
One way to handle such situations is to act as you would like to feel.
Let's say that someone you know is having success. Maybe s/he's gotten a promotion at work or finally paid off his/her debt. Perhaps that person is doing better than you in school.
Maybe you get angry or envious. Perhaps you start trash talking the other person. That's not uncommon. It's also a pretty reactive behaviour. And deep down you probably don't want to take that negative route. Well, you don't have to.
Make a conscious choice
You can choose what actions you want to take. Sure, your emotions, thoughts and old behaviour patterns might give you clear signals to become envious whenever someone gets some success. But you are not your thoughts and emotions. You are the observer of them. You can choose to not take the easy and well-known path of just following along with the signals your body is giving you.
Instead, whenever you find yourself in a situation that would trigger negative feelings and behaviour, you can remind yourself to choose to act as you would like to feel.
Instead of getting envious and start trash talking you can congratulate the person and support him/her. Or just choose to think positive thoughts about him/her.
And soon it's not just you choosing to act you would like to feel. You actually start to feel positive and supportive in a genuine way. And now you can keep doing things that are naturally aligned with how you feel. You can shift envious feelings and behaviour into positive and supportive thoughts and behaviour for the rest of the day or week.

How to make your choice easier
A simple few tips to help you use that space between stimulus and reaction to make a conscious choice:
Stay conscious. One way of doing that is counting to 10. This gives you time to become conscious of what's happening and actually be able to choose a response instead of falling into an old, habitual and unconscious response. Like lashing out when feeling like you are under attack. You can also try taking a dozen belly breaths. It's a quick way to bring some calmness into your body and mind and relax them a bit.
Identify less with your thoughts and emotions. Making the choice becomes quite a bit easier if you identify less with your streams of thoughts and emotions. You won't get pulled along and get stuck in them. I highly recommend checking out Eckhart Tolle´s book "A New Earth" for more on this. Not taking things too seriously can also be a big help to not get so wrapped up in emotions and thoughts and to get more conscious control over how you act.
Think about what is in it for you. One good way to make the choice easier is to repeatedly remind yourself what's in it for you by feeling, thinking and acting this new way compared to your old ways of doing things. You might even want to write a few of the most important reasons down on a piece of paper and put it somewhere where you can't avoid seeing it.
Practise. I think one big problem that people have is simply that on a conscious level they might think some piece of advice sounds interesting and they want to try it out. But on some other level their mind resists and goes "well, this isn't have we've been doing things for the last few decades. It seems unknown and scary. Why try it when what we have been doing all along has kept us safe and worked out pretty well?"
With practise things become easier because you and your mind find the behaviour and thoughts more and more natural.
Is this just an ineffective band-aid?
Now, acting like you want to feel might sound like you are faking it. Or like you're just putting on a happy face to cover up a problem.
I don't see it as a way to ignore problems, but rather as a way to face them – if they are really there – in the most constructive way you can rather than for instance falling into victim thinking. You may, for example, choose to take confident actions to resolve your challenge even though you may feel like a victim who has the whole world against him/her.
If the problem isn't really all that much out there, but more of a complicated monster created in your own mind then you can choose to lessen or stop the amount of time you spend creating and feeding this problem.
And yeah, it might feel fake to not be envious anymore at someone else's success. But that's because it feels unusual and unfamiliar to you right now. How you choose to act and feel does over time become more and more of a natural behaviour for you. Until one day when you hear of someone's success and your reflex reaction may be to feel happy for that person.
Acting as you would like to feel isn't a magic pill. It won't solve all your problems. But it can be a quick way to change your mood in your day to day life and not get stuck in downward spirals. It can be a way to develop a habit of more easily doing what you think is "right thing". It can be a way to learn to be more in control of your life rather than just reacting to what everyone else is doing. And in the long term it can be a way to help you develop new "default" thoughts, feelings and behaviours.
What is your experience with acting as you'd like to feel?

If you like this article, please give it a thumb up in Stumbleupon. Thanks a lot! =)