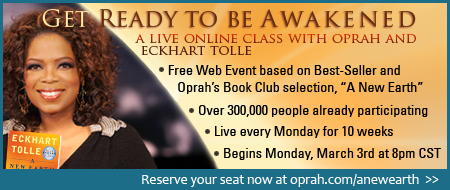 Maybe you've already heard about this. Eckhart Tolle's book A New Earth
is the Book of the Month at Oprah's Book Club. This a great opportunity for Tolle's ideas to reach a really big audience. But Oprah and Tolle has taken this a step further.
Starting today – and continuing for 10 weeks – Oprah and Eckhart Tolle will hold live web events where different concepts from the book will be discussed. The schedule for the webcasts looks like this:
Monday, March 3rd
– The Flowering of Human Conciousness
Monday, March 10th
– Ego: The Current State of Humanity
Monday, March 17th
– The Core of Ego
Monday, March 24th
– Role Playing: The Many Faces of the Ego
Monday, March 31st
– The Pain-Body
Monday, April 7th
– Breaking Free
Monday, April 14th
– Finding Who You Truly Are
Monday, April 21
– The Discovery of Inner Space
Monday, April 28th
– Your Inner Purpose
Monday, May 5th
– A New Earth
If you haven't already read A New Earth this a good opportunity to do so and to be able to gain a deeper understanding of the ideas in the book via the web events and discussions with other readers online.
What are the benefits of reading this book and understanding and applying Tolle's ideas? A few upsides that I have found and mentioned before include:
Being able to spend more of your life in the present moment.

Understanding your ego and how it can mess up your life.

Reducing fear and negative emotions.

Increasing inner stillness and positive emotions.
You can sign up for free for the web events and discussions right here. I and over 380000 others have already done so.
If you like this article and want to spread the word about these live events, please give it a thumb up in Stumbleupon. Thanks a lot! =)