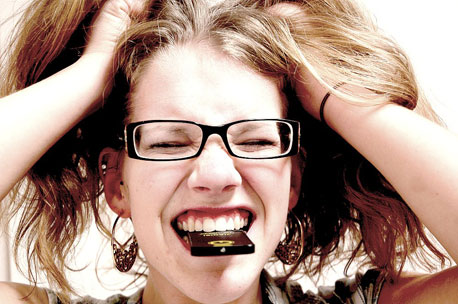 Image: http://www.flickr.com/photos/evilerin/ / CC BY 2.0
"What do you first do when you learn to swim? You make mistakes, do you not? And what happens? You make other mistakes, and when you have made all the mistakes you possibly can without drowning – and some of them many times over – what do you find? That you can swim? Well – life is just the same as learning to swim! Do not be afraid of making mistakes, for there is no other way of learning how to live!"
Alfred Adler
"Anyone who has never made a mistake has never tried anything new."
Albert Einstein
I don't really write much about blogging since this is a website about personal development. But once in a while I make an exception.
However, some of the mistakes and lessons I have learned are probably still helpful even if you don't have a blog.
1. I didn't proofread out loud.
If you proofread your article out loud then it's much easier to catch strange sentences or missing/misspelled words. A simple and effective tip.
2. I worried too much about negative reactions. They were mostly in my head.
Out of all the feedback I have received over the last three years very, very little has been hostile, angry or nasty. So don't let your fears about what people may say stop you from posting something or from starting your own blog.
3. I didn't think looks mattered that much.
I changed the design of the blog last year and the rate of added subscribers and the offers from advertisers and all kinds of personal development businesses have increased. The blog looks more professional and therefore I believe it looks more trustworthy now than it did before. It leaves people with a better first impression.
No, the surface – or what may seem superficial – is not just what matters. But it does have a big impact. Don't neglect it (in any part of your life).
4. I didn't focus on email subscribers.
Articles about blogging often talk about the importance of RSS subscribers. Online marketers often talk about the importance of email subscribers. I have found from my own statistics that a lot more people actually reads a new article if it is delivered via email rather than via RSS. Putting email subscriptions in the spotlight has ensured that a lot more people will actually read what I write.
5. I forgot to backup the blog. Many times.
I have been lazy about this many times and every time the blog had some problems or went down for some reason for while I got stressed and angry at myself for not doing such a very simple thing more regularly. Don't make that simple mistake.
6. I didn't do proper research on hosting companies.
Back in the spring of 2008 my blog went down. It was down for about nine days. I called the support desk at my old hosting company here in Sweden each day. And each day they told me they would take a look at it and fix the problem. They didn't. So after more than a week of frustration and phone calls I finally switched hosting companies.
Before making that switch I did some research for about an hour. I read blog posts about hosting companies with the best service. I checked out the website of magazine about internet here in Swedne that does a test every year to find the best hosting companies.
I suggest that you do such research before you start a blog or if you are thinking about switching. It will save you a lot of trouble and stress down the line. Things have run so much smoother with great support people that know what they are doing and will actually help you.
7. I took the wrong perspective for what I wanted.
This is a big mistake I made. I wanted to build and grow a blog to help myself in my own personal development, to help other people who needed some advice and to make this into a full-time gig.
But I was inexperienced and naively listened to too much advice and my own laziness that told me that you pretty much just had to write a bit about things you liked and then slap on some ads and you would be set. So I blogged inconsistently and so the blog grew inconsistently. I slapped on some ads that made me a bit of money but really not that much at all.
Nowadays I don't view this as just as a blog. I view it as a business where the blog is one part. Last week I set up other parts like a new mailing list and my first own product in the form of the free 7 Timeless Habits of Happiness e-book.
If you want a blog where you share your thoughts then view it as a blog. But if you want to grow it faster and someday turn this into a part-time or full-time gig then I have found it to be much better to view it as a business. It makes it much easier to stay consistent with your work and to find new ideas and solutions both within and outside of yourself to help you to grow your business (and in many ways grow as a person too).
8. I didn't focus enough on what is most important.
Like with anything else in life, if you want excellent results then focus on doing the most important things. Because there will never be time and energy enough to do it all. And if you don't focus on the most important things then they are often not done at the end of the day since you kept yourself busy with other things.
What is the most important thing here? At least for me it has been content. Focus your time on writing the best content you can manage. Yes, connecting with people via email, other blogs and Twitter is important. And checking statistics can be fun. But you have to limit the time you spend on those things because without the content you are going nowhere.