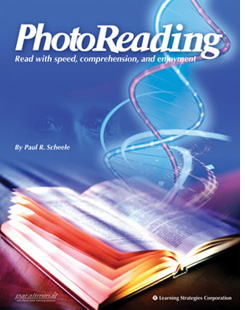 The discount is now over. Please go here to read my review of Photoreading.
—————————————————————————————————-
Just a quick update today. The offer from Learning Strategies to all Positivity Blog readers that consists of a free download of their Double Your Reading Speed in 10 Minutes session (that also sells regularly as a CD for 19.95 dollars) and a 60 percent discount on both versions of the Photoreading system expires in two days (at the end of the 30:th of December 2009). So if you're interested I would suggest following the link above now.
Double Your Reading Speed in 10 Minutes is a quick session where you learn to read faster through three steps (and it includes a great little exercise for quickly stepping into a mental state of relaxed attentiveness).
Photoreading – the most popular and top selling product from Learning Strategies – is a whole system and home study course filled with techniques to help you not only read even faster but also to help you get what you want out of books and to better understand and retain what you have learned. It's not just about moving your eyeballs faster over every word words in a linear reading kind of way but more about getting what value you want out of a book.
To read more about my positive impressions of Photoreading and find more information about the course visit the this article that I posted a few weeks ago.
Instructions for the free download and discounts
To access the free download and the discounts go to this page. After you have filled in your email and other details you will get an email in your inbox (be sure to check the spam-folder too so it didn't get displaced there). Inside the email is a link to the page where you download the Double Your Reading Speed file. The file is in .zip format so you need a program to unzip the file and get access to the mp3 file within. You can unzip it very easily by using Winrar for Windows (free for 40 days) or StuffIt Expander for Mac (totally free).
Inside the email from Learning Strategies is also a link to the sales page for Photoreading. On the salespage you just type in the customer code from the email and click the" update shopping basket" button to receive the discount. If you pay by credit card then you can split the payment into three parts that you pay over three months (that option costs an extra 9 dollars).
The discount is 60 percent on both versions of Photoreading. The classic version now costs 99.95 dollars instead of the usual 245 dollars. And the Deluxe version goes for 218 dollars instead of 530 dollars.